Mercari Becomes the First Japanese Company to Partner With Xianyu, China's Largest Marketplace App
Mercari, Inc. ("Mercari") will begin crossborder sales to China through C2C marketplace Taobao and marketplace app Xianyu, which are owned by Alibaba Group, operator of the largest e-commerce platform in China. This has been made possible through collaboration with BEENOS Group, which provides infrastructure support for crossborder e-commerce.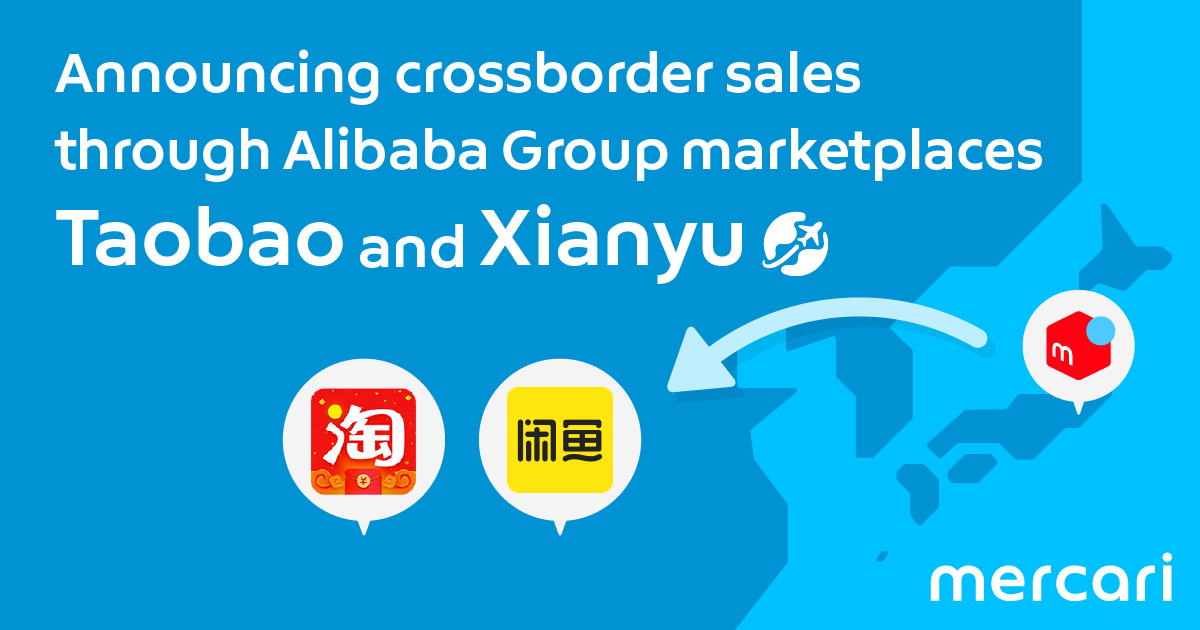 Background
According to the Ministry of Economy, Trade and Industry, the market scale for crossborder e-commerce in 2019 was 912.3 billion USD, with this market expected to grow annually at an estimated average rate of approximately 27%. Additionally, China's rate of conversion to e-commerce is 36.6%, far above the world average of 14.1%. This market is expected to grow even further as use of e-commerce begins to take hold in rural areas.1
With its mission to create value in a global marketplace where anyone can buy & sell, Mercari began crossborder sales in November 2019.2,3 Since then, Mercari has seen demand from users in China and the potential of the Chinese market. As a result, Mercari has decided to begin crossborder sales through Taobao and Xianyu, which are owned by Alibaba Group, operator of the largest marketplace in China.
With this partnership, users in China will be able to view and buy some items listed on Mercari. This also makes Mercari the first Japanese company to partner with Xianyu.
1. "FY2019 E-Commerce Market Survey", Ministry of Economy, Trade and Industry (July 2020) https://www.meti.go.jp/policy/it_policy/statistics/outlook/r1_betten.pdf
2. "Marketplace app Mercari begins crossborder sales to over 100 countries: Overseas Buyers Can Now Purchase Items Using Proxy Service" (November 2019) https://about.mercari.com/press/news/articles/20191115_crossborder/
3. "Marketplace App Mercari Begins Crossborder Sales to Taiwan Through Shopee, the Largest Marketplace in Southeast Asia and Taiwan" (August 2020) https://about.mercari.com/en/press/news/articles/20200812_shopee_taiwan/
About Taobao and Xianyu
Taobao and Xianyu are both e-commerce platforms operated by Alibaba Group. Taobao is China's largest C2C marketplace, carrying items in a wide variety of categories. Xianyu began as a service to buy and sell secondhand goods within Taobao, but now operates as a standalone marketplace app with over 90 million monthly active users, making it the largest marketplace app in China.
How It Works
When a user from China places an order on Taobao or Xianyu, an official Buyee account* will purchase the item on Mercari for the user. After inspecting and packaging the item, Buyee will ship it to the user in China. As the international shipping is handled by Buyee, there will be no changes to shipping methods or shipping costs for sellers on Mercari.
*Official Buyee accounts are accounts operated by the BEENOS Group for use in proxy purchases.
Proof of Concept
Starting in October 2020, Mercari carried out a proof-of-concept study on Taobao and Xianyu. In this study, Mercari identified a definite demand from users in China, with items from Mercari sold on the very first day and the study meeting internal targets even faster than expected. Additionally, seeing the popularity of live commerce in China, Mercari carried out live commerce on Taobao. Going forward, Mercari will strive to match the unique trends of users in China and create more sales opportunities for Mercari users within Japan.
Mercari will continue looking for ways to provide a safe and secure marketplace globally and fulfill its mission to create value in a global marketplace where anyone can buy & sell.