Expanding Business Synergy by Utilizing Mercari's Total User Base of 48+ Million People to Offer a New Mercard Credit Card and Regular Point-Back Rewards
On November 8, 2022, Mercari, Inc. ("Mercari") held the Mercari Fintech Business Strategy Presentation 2022, a presentation for the media and business partners in which they announced the status of the Fintech domain in Mercari Group's Japan business, as well as upcoming fintech initiatives.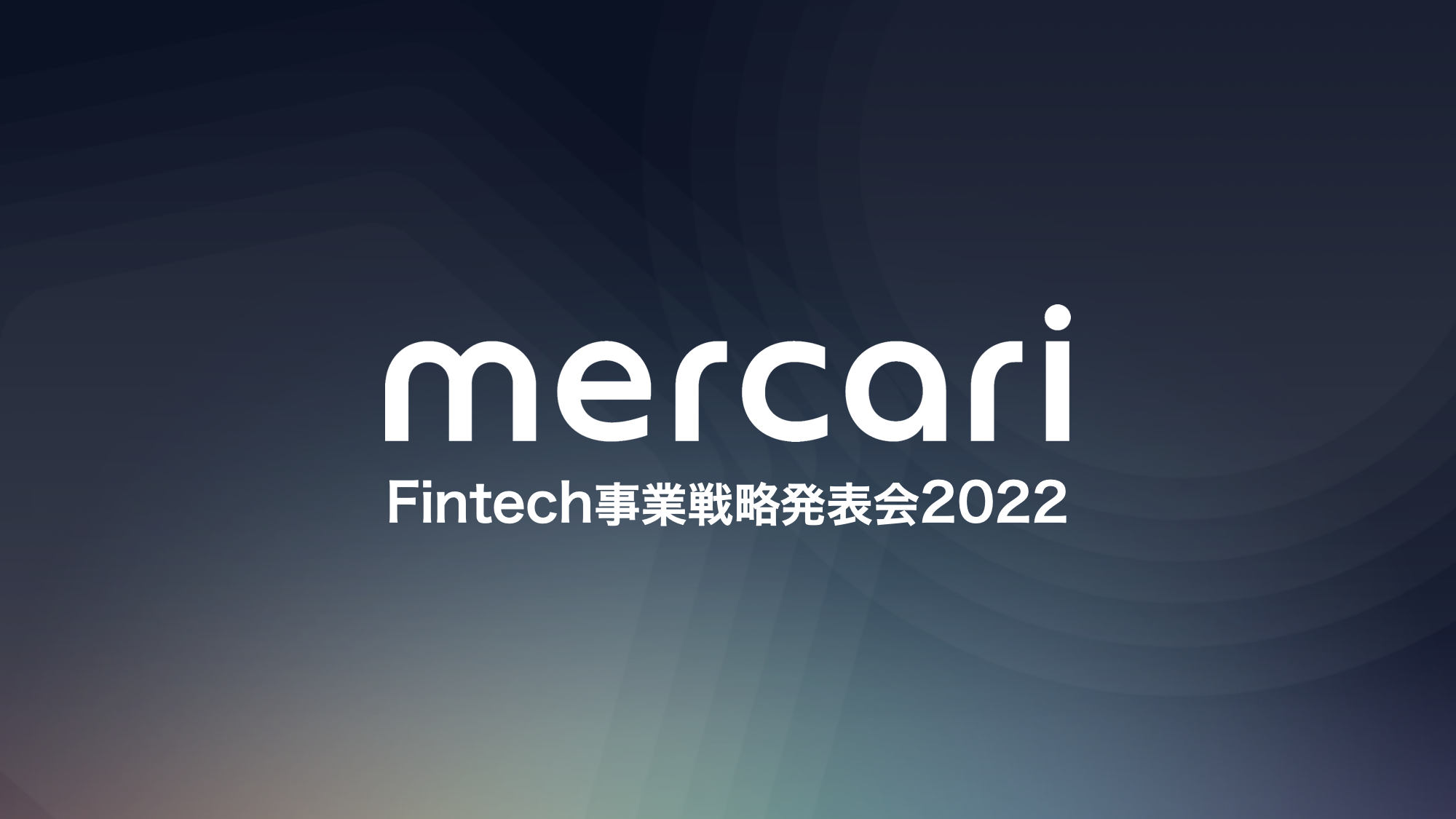 In January 2022, Mercari changed its management structure in order to strengthen Mercari Group's business foundation. Additionally, we are working to create synergy and optimize our businesses, such as by strengthening collaboration between businesses in the Marketplace and Fintech domains within our Japan Region (Mercari Group's Japanese domestic business). The Fintech domain, which includes Merpay, is making progress toward its FY2023.6 business objective to promote circular finance by strengthening Group synergy.
In this event, we reviewed Mercari's business growth and how the user experience has evolved thus far, before announcing new initiatives in the fintech domain to support Mercari Group's future growth in the Japan Region: Mercari's first credit card Mercard, the launch of regular point-back rewards, and the future direction of the cryptoasset business. We also explained our thoughts on Mercari Group's contribution to promoting a circular economy.
Below is a summary of the announcements made at the event.
Establishing Mercari's business foundation and expanding potential business opportunities
Mercari's increasing user base and GMV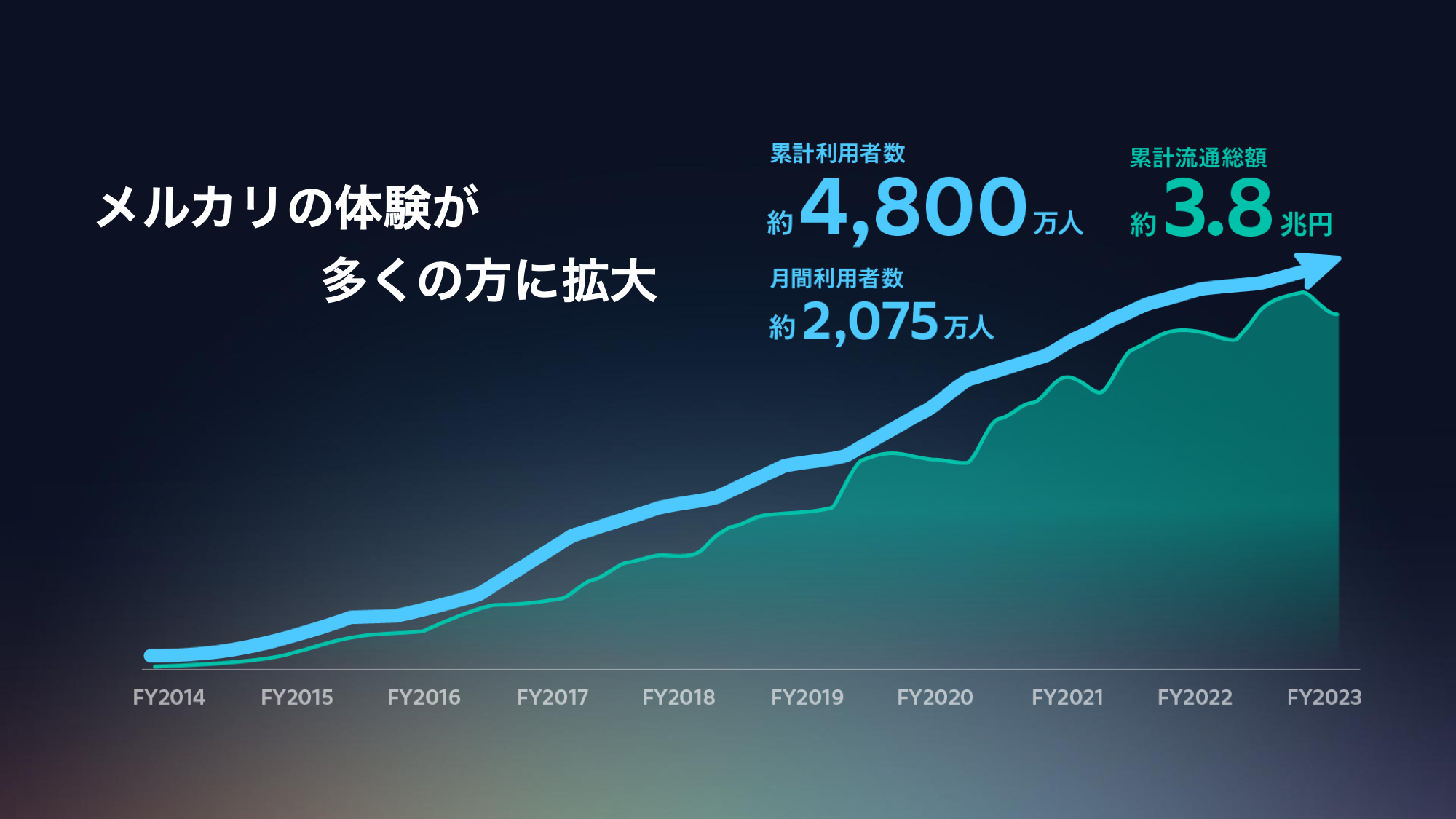 Mercari launched the Mercari marketplace app in July 2013. Since then, Mercari has provided users the unique experience of being able to easily, safely, and securely buy and sell unneeded items using only a smartphone, and the service has grown to reach a total of 48 million users and a total GMV of 3.8 trillion yen since its launch.1
1. The number of users is the number of people who browsed our service (app or web) at least once during a given period (excluding suspended users). Total number of users and total GMV are the total numbers from July 2013 to October 2022; MAU (monthly active users) is the quarterly average of MAU between July and September 2022.
New buying opportunities created by Mercari's unique credit
In February 2019, Mercari launched the mobile payment service Merpay. Through this service, Mercari has created opportunities for users to leverage the sales balance they make on Mercari in many other places, using payment options such as code payment, iD payment, and online payment with a virtual card or Merpay's online payments service.
Merpay also offers the deferred payment service Merpay Smart Payments, which utilizes a unique form of credit based on Mercari usage history rather than traditional credit based on general attribute information. This service allows users to buy things they want, then pay for it later using their Mercari sales balance. We work to create new buying opportunities for as many people as possible using Mercari's credit services, including those who are unable to access services using general attribute-based credit.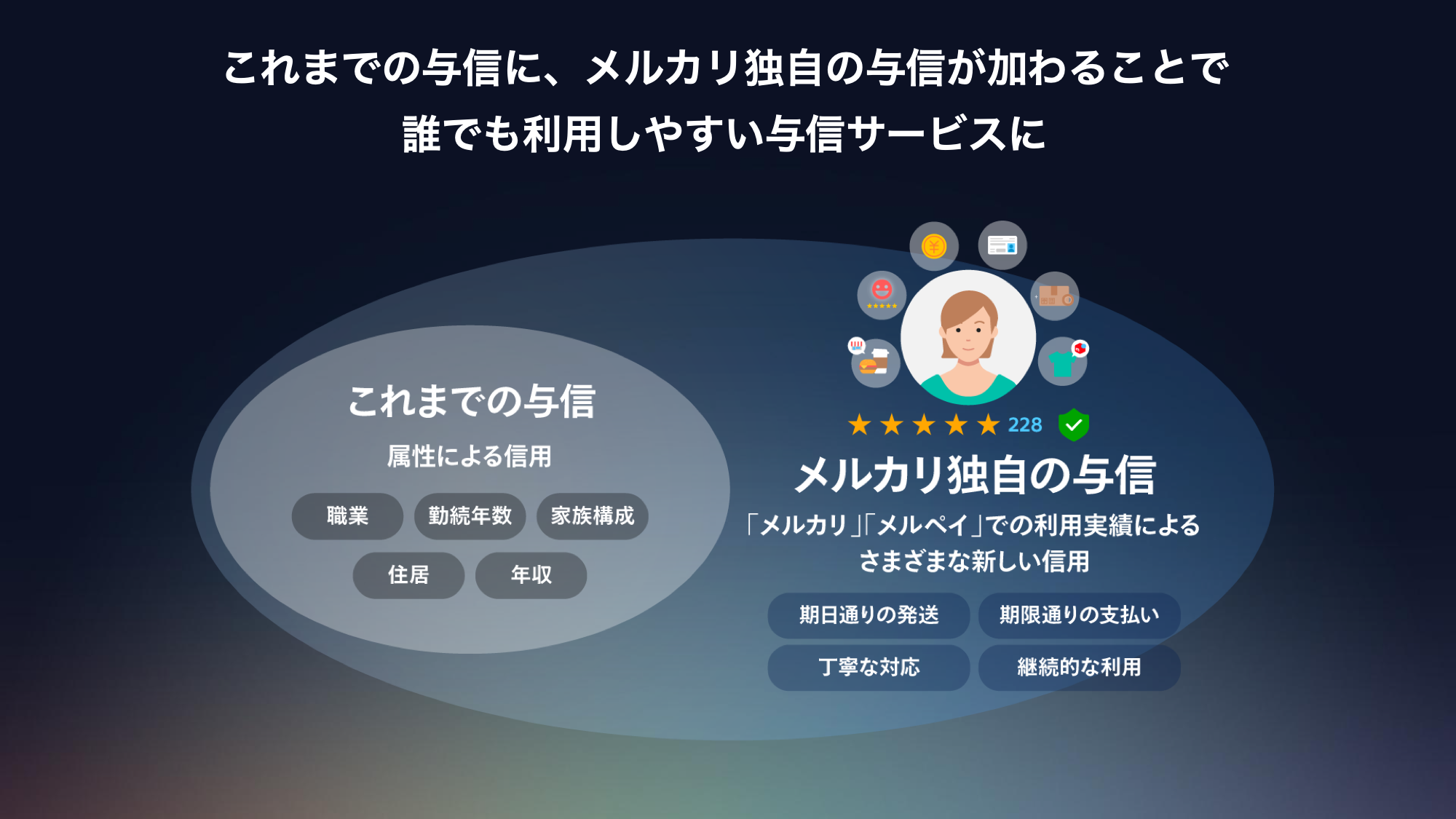 Creating a safe and secure usage environment and promoting identity verification
Mercari has also worked to create a safe and secure usage environment as its utmost priority as the Mercari and Merpay services have expanded.
In 2019, Mercari launched a feature allowing users to easily verify their identity entirely within the Mercari app. Following that, Mercari became the first company in the mobile payment industry to implement identity verification using Individual Number cards. Currently, the number of users who have completed identity verification has reached 12.16 million.
We believe that this identity verification rate is a competitive edge for Mercari, as users who have verified their identity will be able to easily apply for fintech services we plan to offer in the future.
Entering the credit card business and launching regular point-back rewards
Announcing Mercari's first credit card, Mercard
Starting today (November 8, 2022), Mercari is launching its first credit card, Mercard.2 The Mercard application is quick and simple—for users who have already completed their identity verification within the Mercari app, the process can take as little as one minute. Plus, the card can be used at approximately 39 million JCB-participating stores in Japan and overseas.3
Mercard also offers an unprecedented new credit card experience through the Mercari app, which includes immediate use notifications and usage history confirmation, the ability to flexibly select payment dates and payment methods, and flexible credit limits and a point-back rate based on Mercari usage.
2. Phased rollout of applications for and use of Mercard to Mercari app users starting today. You must be at least 20 years old to use Mercard. All applicants will go through a screening process before they can be approved for a card.
3. Estimated time required to complete the Mercard application forms. Please be sure to thoroughly read the Terms of Service before you apply. Number of JCB-participating stores as of March 31, 2022. Mercard is a credit card shopping service.
Note: Further details regarding Mercard can be found in the following press release.
https://about.mercari.com/en/press/news/articles/20221108_mercard/
The official Mercard website:
https://lp.merpay.com/card/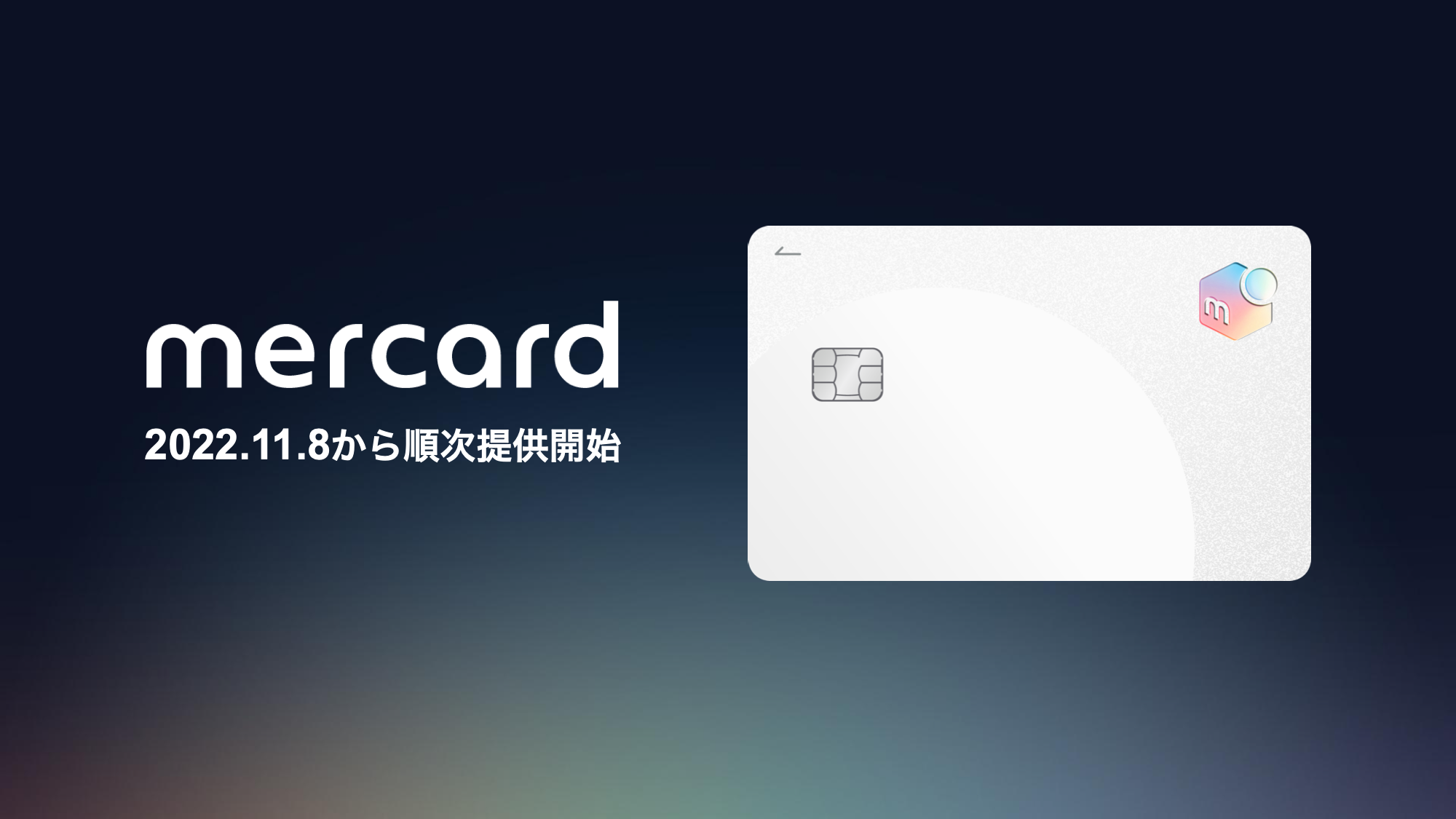 Launching regular point-back rewards of up to 4%, a first for Mercari
In addition to the launch of Mercard, from November 8, 2022 (JST), point-back rewards will also be offered to Mercard and Merpay Smart Payments deferred payment users. This kind of constant point-back rewards system is a first for Mercari Group. Mercard holders can earn points back by using their card for purchases, but also by using Merpay Smart Payments via QR code or iD payment.
A user's point-back rate is determined based on their usage of Mercari and Merpay (e.g. items bought and sold on Mercari and payments made with Merpay), with a maximum of 4% for purchases made on Mercari and 1% for all other purchases. Also, on the 8th of every month, users can earn an additional 8% points back4 on top of their normal point-back rate when using Mercard and Merpay Smart Payments.
4. On the 8th of each month, users can get an additional 8% points back, with an upper limit of 300 points.
Note: Further details regarding the regular point-back rewards can be found in the following press release.
https://about.mercari.com/en/press/news/articles/20221108_mercard/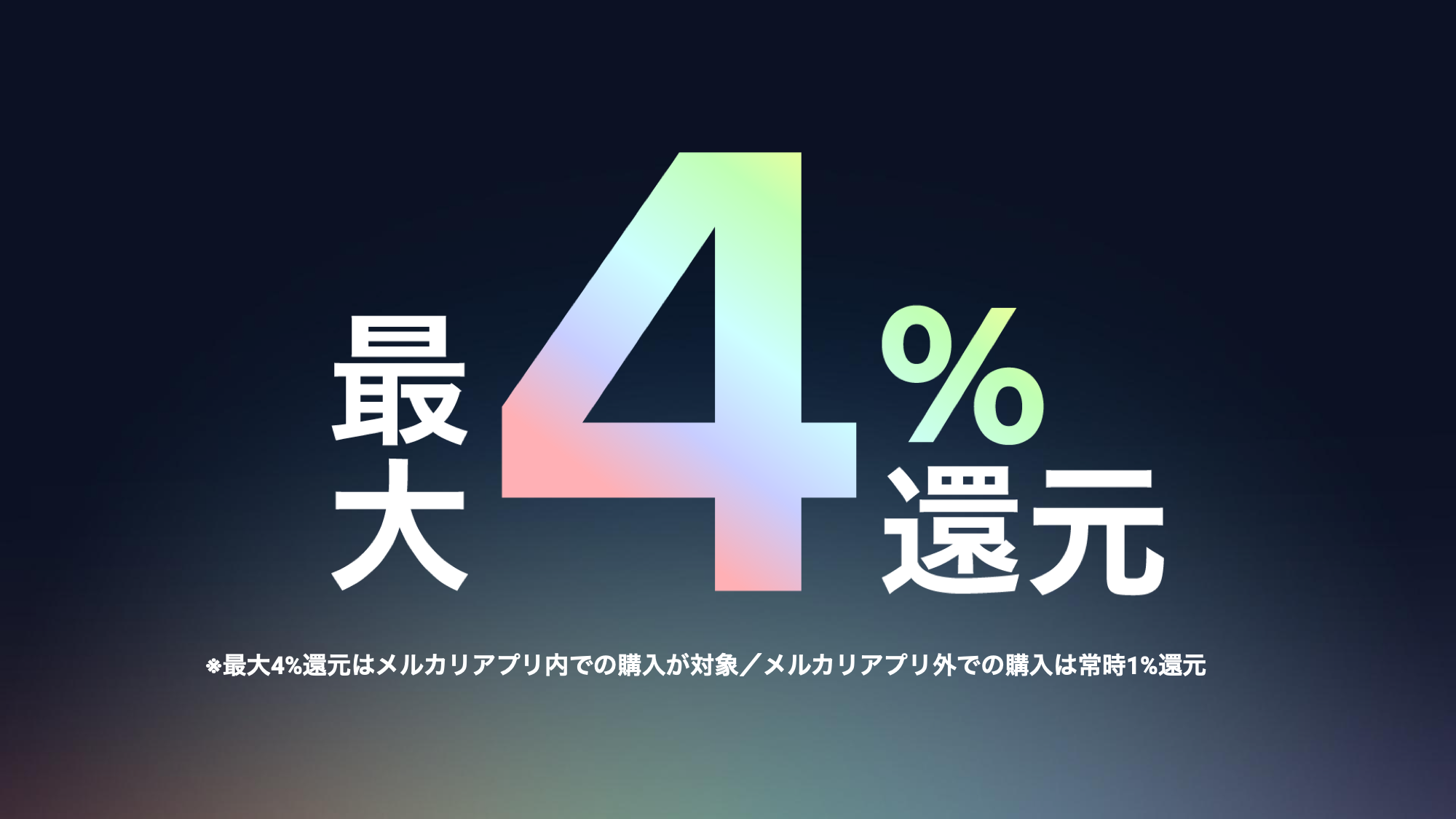 Promoting buying, selling, and paying on Mercari to encourage sustainable actions instead of just consumption
A user's point-back rate changes based on their use of Mercari, including selling in addition to buying and making payments. This means that users can increase their point-back rate not just by shopping, or consuming, but also by selling items they no longer need and passing them along to someone else.
By linking the three main actions taken by many of Mercari's users—buying, selling, and paying—to a user's point-back rate, users will get better deals simply by using Mercari as they always do, without having to jump through any hoops. We created this system to reward users for taking sustainable actions.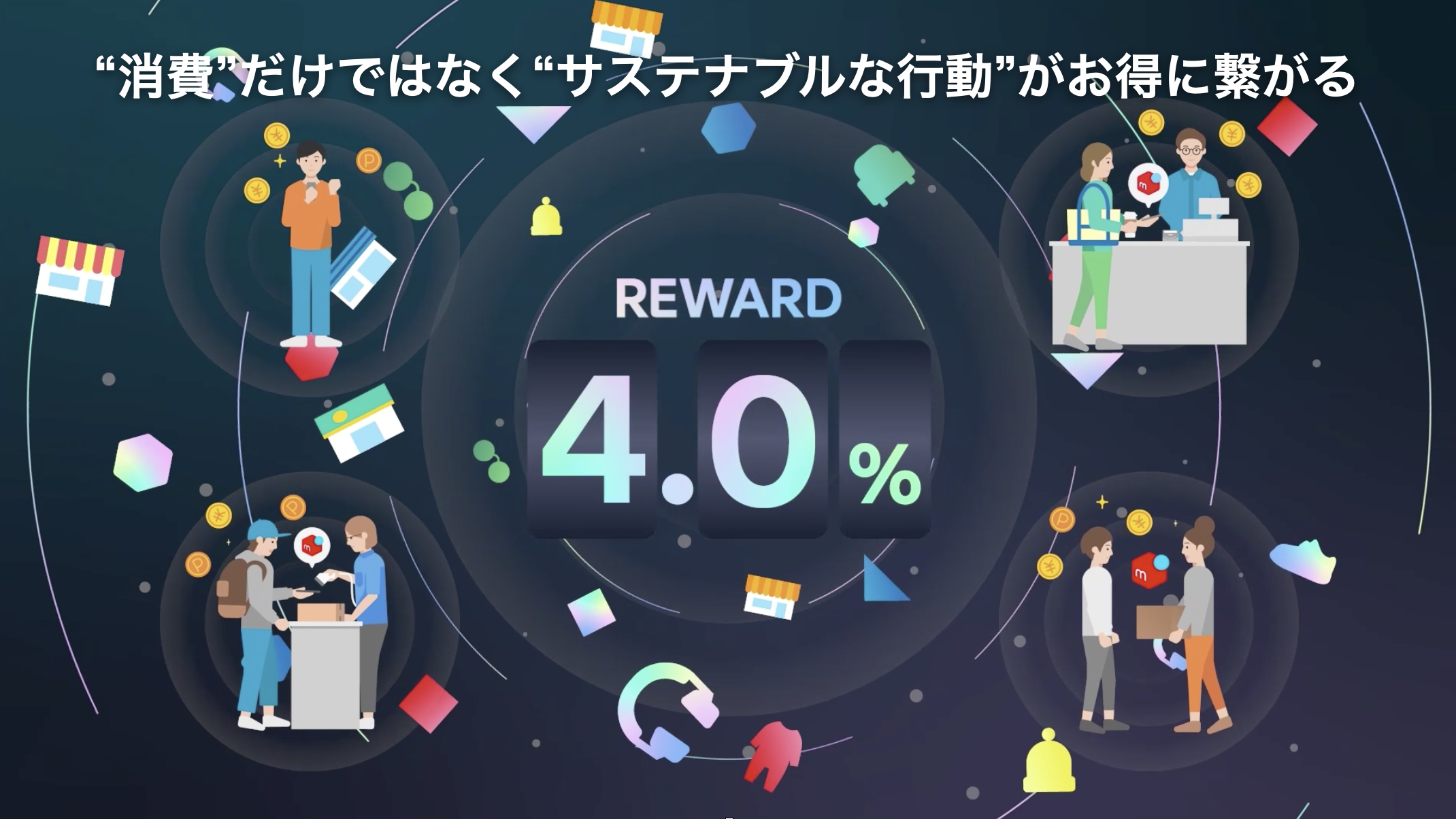 Offering deals outside of Mercari with collaborations with business partners
Going forward, we will work with various business partners to offer these experiences to even more people. We plan to work together with our partners to give users opportunities to get good deals on buying new items by passing along items they no longer need to someone else without throwing them away.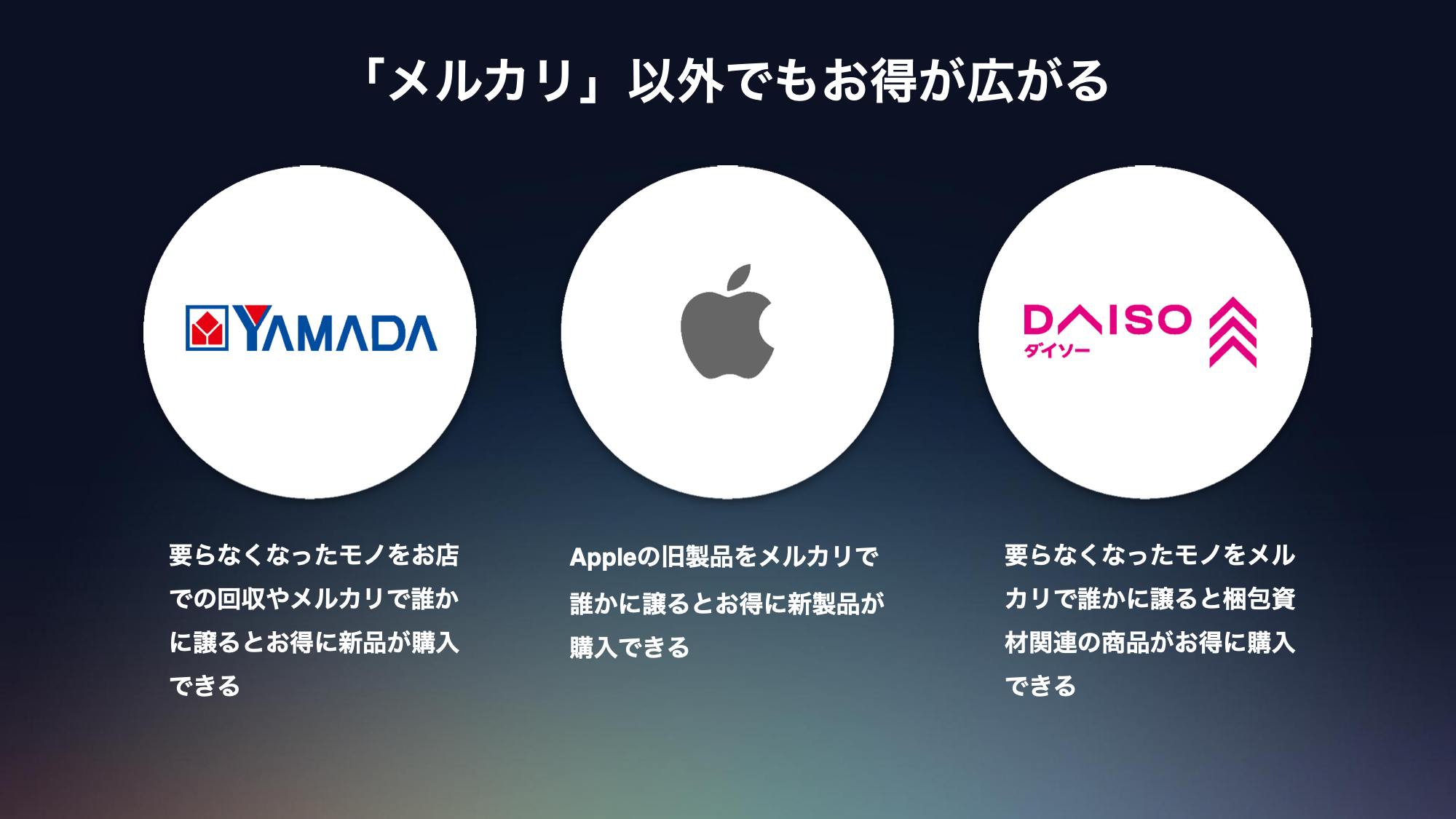 With Mercard, and by constantly rewarding use with points back, Mercari Group aims to expand the Mercari experience to encompass a wider variety of domains than ever before—users can purchase new items to earn points, and even settle payments with their accumulated points and sales proceeds from selling items on Mercari.
Future fintech business plans
Giving users the experience of exchanging sales balance for digital assets
In spring 2023 (expected), we will add cryptoassets to the Mercari ecosystem and launch a feature allowing anyone to easily buy cryptoassets (bitcoin) on the Mercari app.5 Users who have already verified their identity will be able to apply for this service on the Mercari app in as little as one minute5, allowing them to use the sales balance made from selling unneeded items on Mercari to buy cryptoassets within the same app. With this and more, we envision a future where anyone can easily own cryptoassets.
5. Features involving buying cryptoassets will be provided by Mercoin, Inc. (a wholly-owned subsidiary of Mercari). To apply for this service, users must apply to open a cryptoasset trading account through Mercoin, Inc. Applicants must pass a screening to open an account.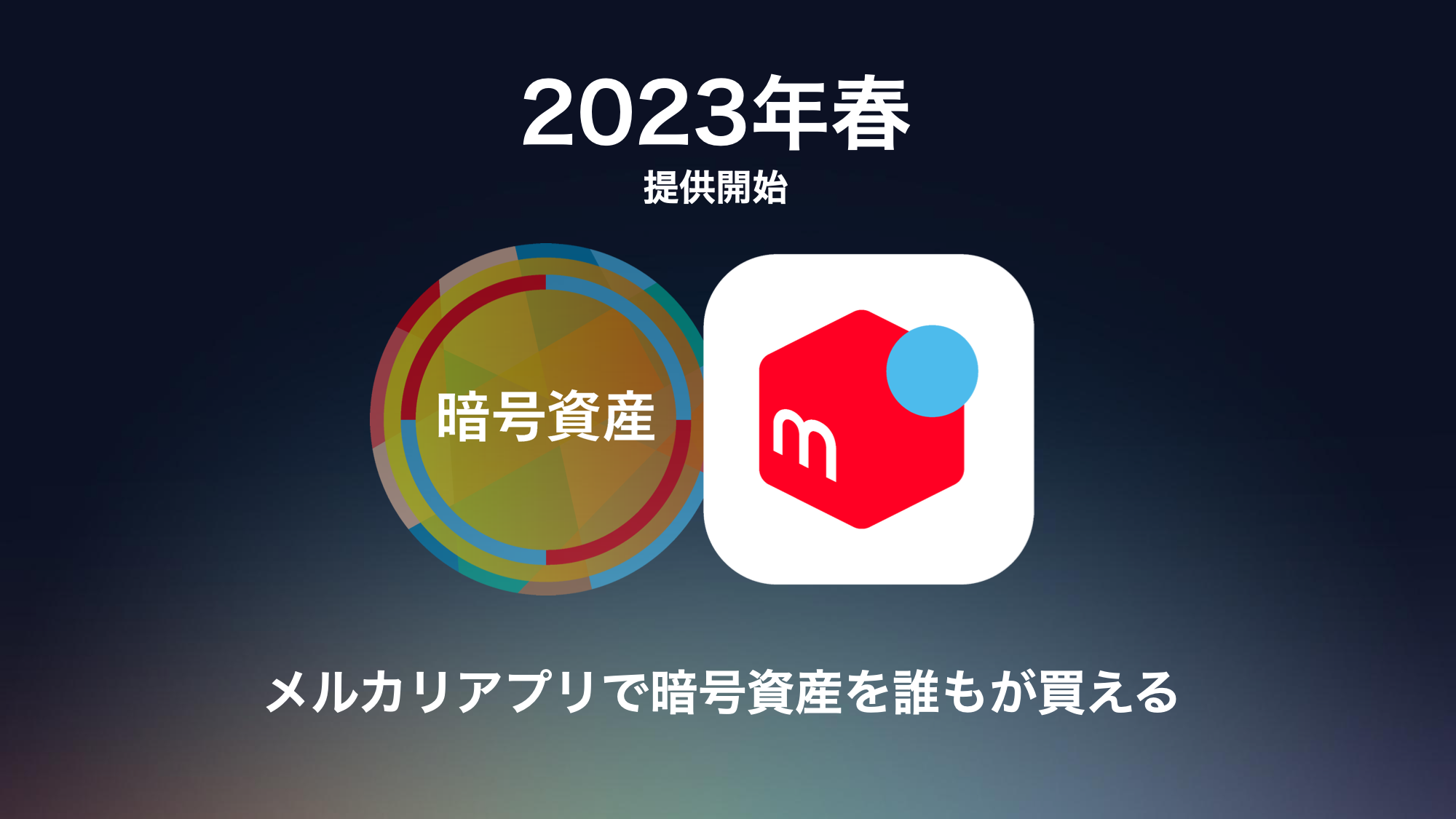 Leveraging Mercari's user base of more than 48 million users to date to expand the Mercari ecosystem
Through the initiatives we announced in this presentation, Mercari Group will work to utilize our user base of 48 million total users to not only strengthen ties between buying/selling items in the Marketplace domain and payment/credit in the Fintech domain, but also expand our ecosystem to circulate all forms of value, including trust, NFTs, and cryptoassets.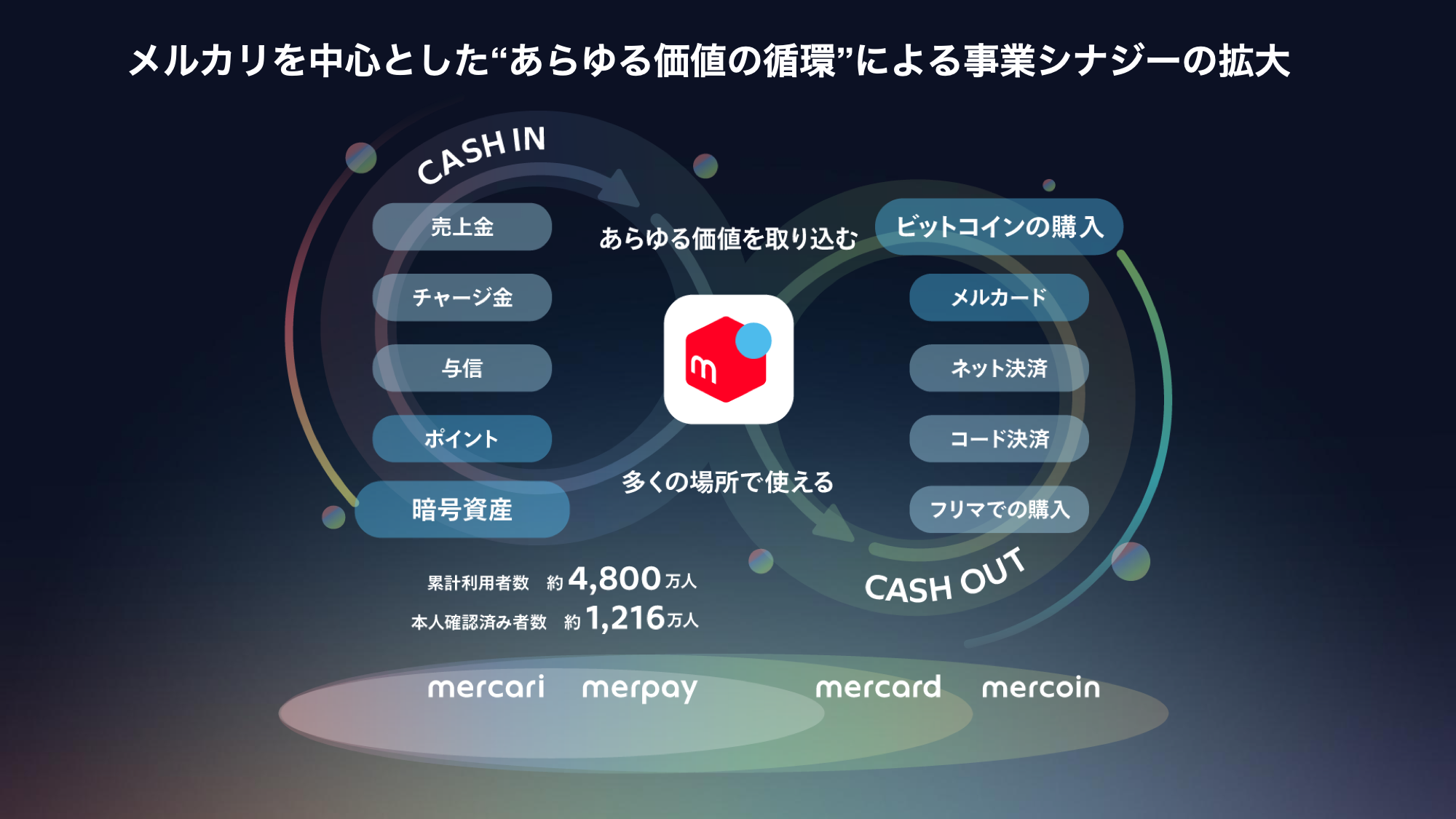 We believe that circulating all forms of value through the Mercari ecosystem will help everyone be able to realize their dreams and do the things they enjoy, as well as shift people's actions and mindset away from "throw-away culture" and toward a sustainable approach to consumerism. Through this, we aim to contribute to creating a circular economy and a planet-positive world that has a positive impact on the environment.