Introducing a Feature to Suggest Improvements for Listers to Help Items Sell
Mercari, Inc. ("Mercari") announces that, on October 17, 2023, it has launched Mercari AI Assistant, a feature to give users personalized advice leveraging generative AI and large language model (LLM) technology, on the Mercari app. Mercari has utilized generative AI/LLM technology internally, but this is the first time it has implemented these technologies in the Mercari app for users to see.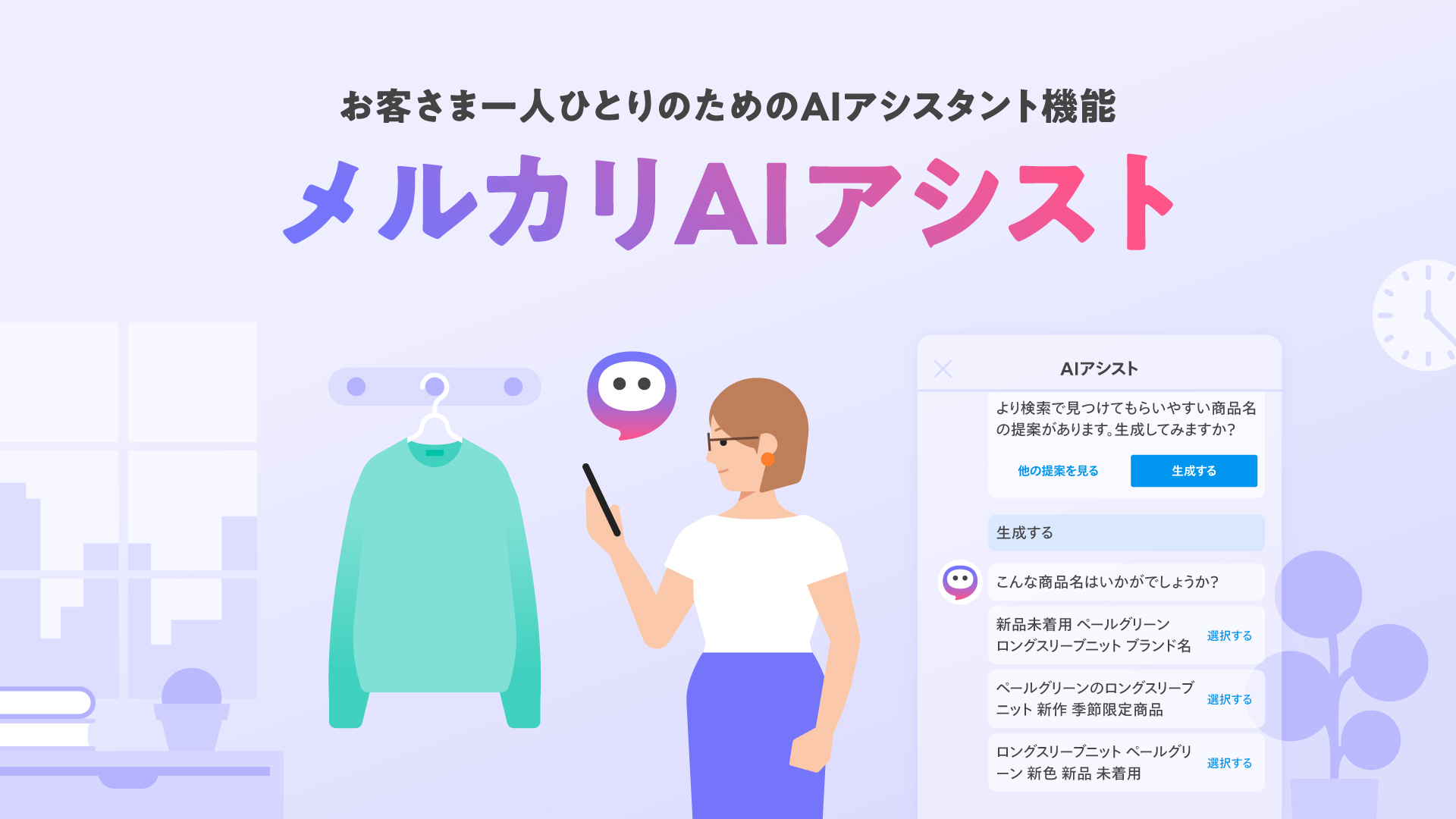 Mercari AI Assistant is a tool built to recommend best actions and help you navigate all sorts of situations you may run into on Mercari, such as problems faced in the listing or buying process.
First Release: Suggesting Improvements for Listers to Help Items Sell
For the initial launch of Mercari AI Assistant, we have released a feature where an AI analyzes the item information of an existing listing and suggests ways for the seller to improve the listing to help it sell.1 Specifically, the AI assistant looks at listings that have not sold for a certain amount of time and suggests improvements to listing information based on past Mercari data. Not only does this assistant suggest adding information such as item size and the price the seller originally bought the item for, but it even automatically generates recommended item names that are more likely to grab the attention of potential buyers.2
At launch, this feature supports listings in 20 categories, including character merchandise, Pokémon cards, CDs (such as Japanese music and K-pop), reference books, and novels, and will gradually be rolled out to more categories going forward.3
How to Use Mercari AI Assistant (Listing Improvement Feature)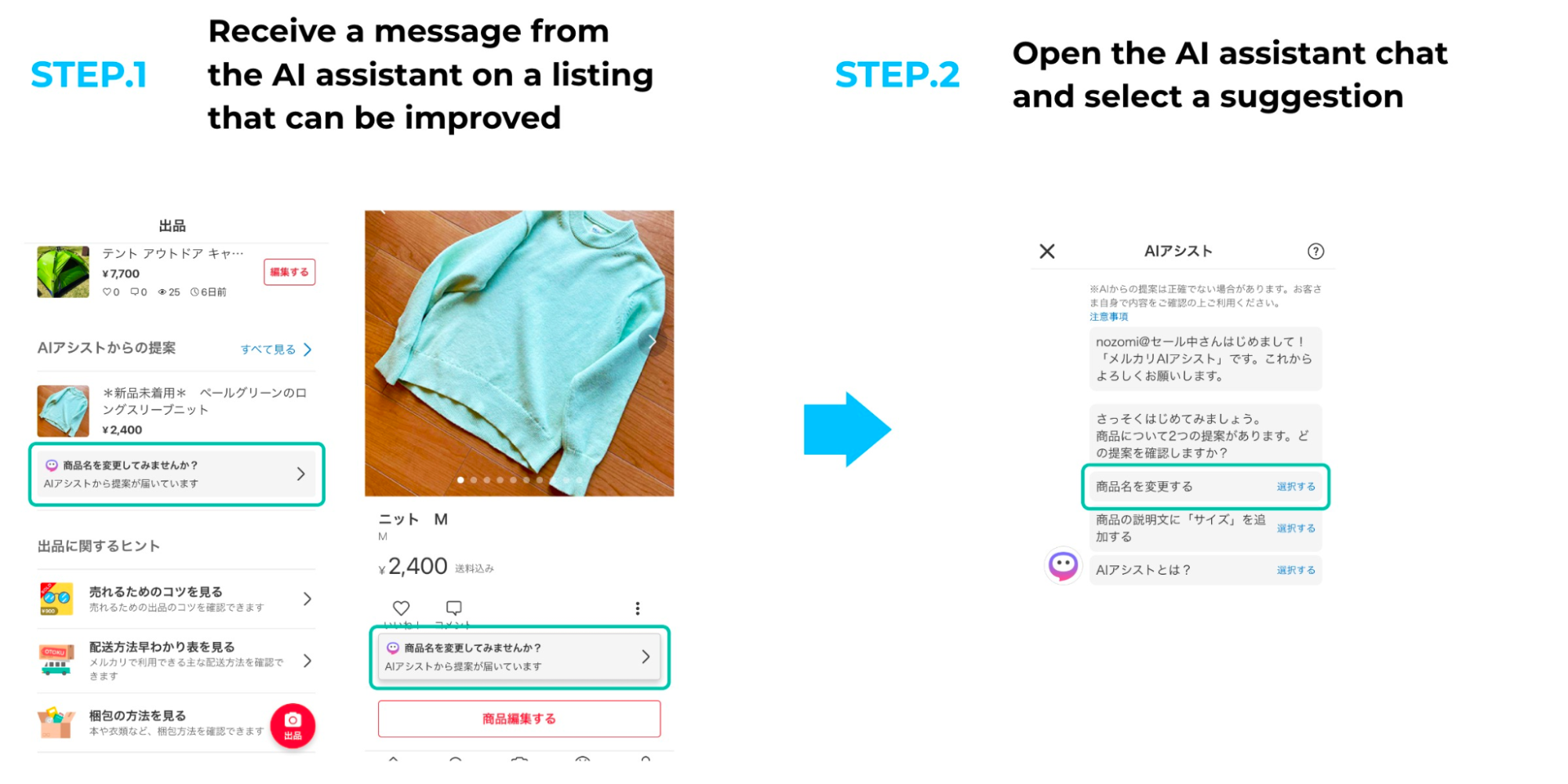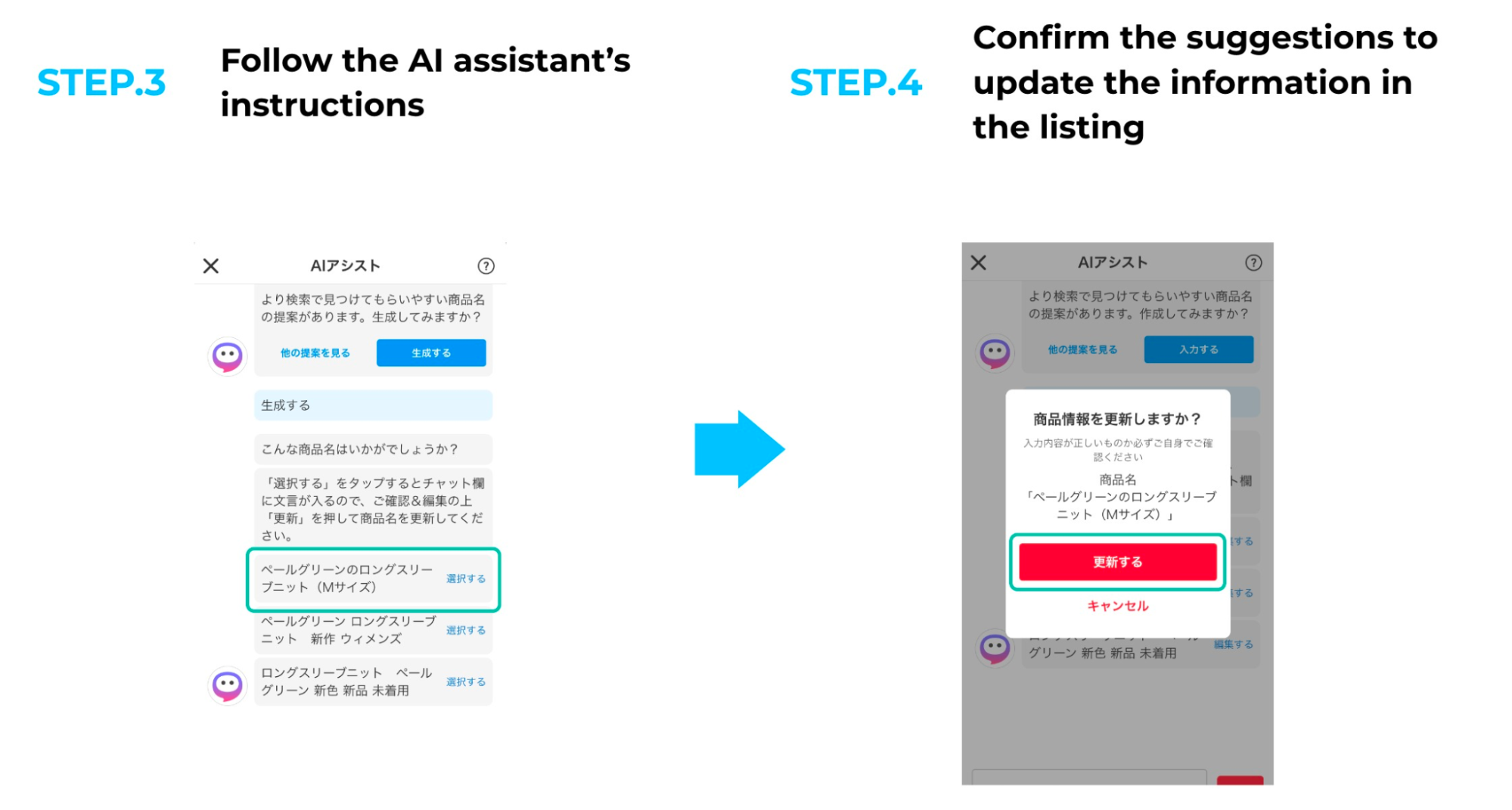 Mercari plans to implement more features using these technologies, such as other ways to support buying and selling, into Mercari AI Assistant in the future.
1. Mercari AI Assistant will be rolled out to users gradually beginning October 17. This feature is currently only available on the iOS version of the Mercari app.
2. For notes and disclaimers regarding Mercari AI Assistant, see this page: https://help.jp.mercari.com/guide/articles/1481/ (only available in Japanese)
3. At time of launch, Mercari AI Assistant supports certain types of items in the Men's Fashion; Women's Fashion; Toys & Hobbies; Books, Music & Games; Sports & Leisure; Home Decor; and Handcrafted Items categories. Release of the feature for other categories is planned for the future.

Below is a comment from Yuki Ishikawa, head of the Generative AI/LLM Team and VP of Generative AI/LLM at Mercari, Inc., on the launch of Mercari AI Assistant.
"As generative AI and LLM technology brings about technological innovation, I believe that in the near future, many services will implement and offer 'copilot' services that provide support tailored to individual users' needs.
I'm confident that Mercari AI Assistant will serve as a copilot for each and every user to find the items they want and list and sell items easily, contributing to the most important user experiences on Mercari.
Mercari Group will continue working to enhance ease of use and create new user experiences by incorporating generative AI and LLM technology into the different ways people use our services."
Mercari will continue to handle ethical, legal, and social issues in AI fields carefully while working to provide new features and experiences in our next decade under our Group mission of "circulate all forms of value to unleash the potential in all people."