Strengthening the connection between primary and secondary distribution, to become indispensable to the creation of a circular economy
Mercari, Inc. ("Mercari") is pleased to announce that our total monthly active users (MAU) for the Mercari marketplace app ("Mercari") exceeded 20 million users1 for September 20212.
1. Number of registered users who browsed the app or website at least once in the last month.
2. MAU disclosed as part of the financial closing represents a quarterly average and is therefore different from the value listed here.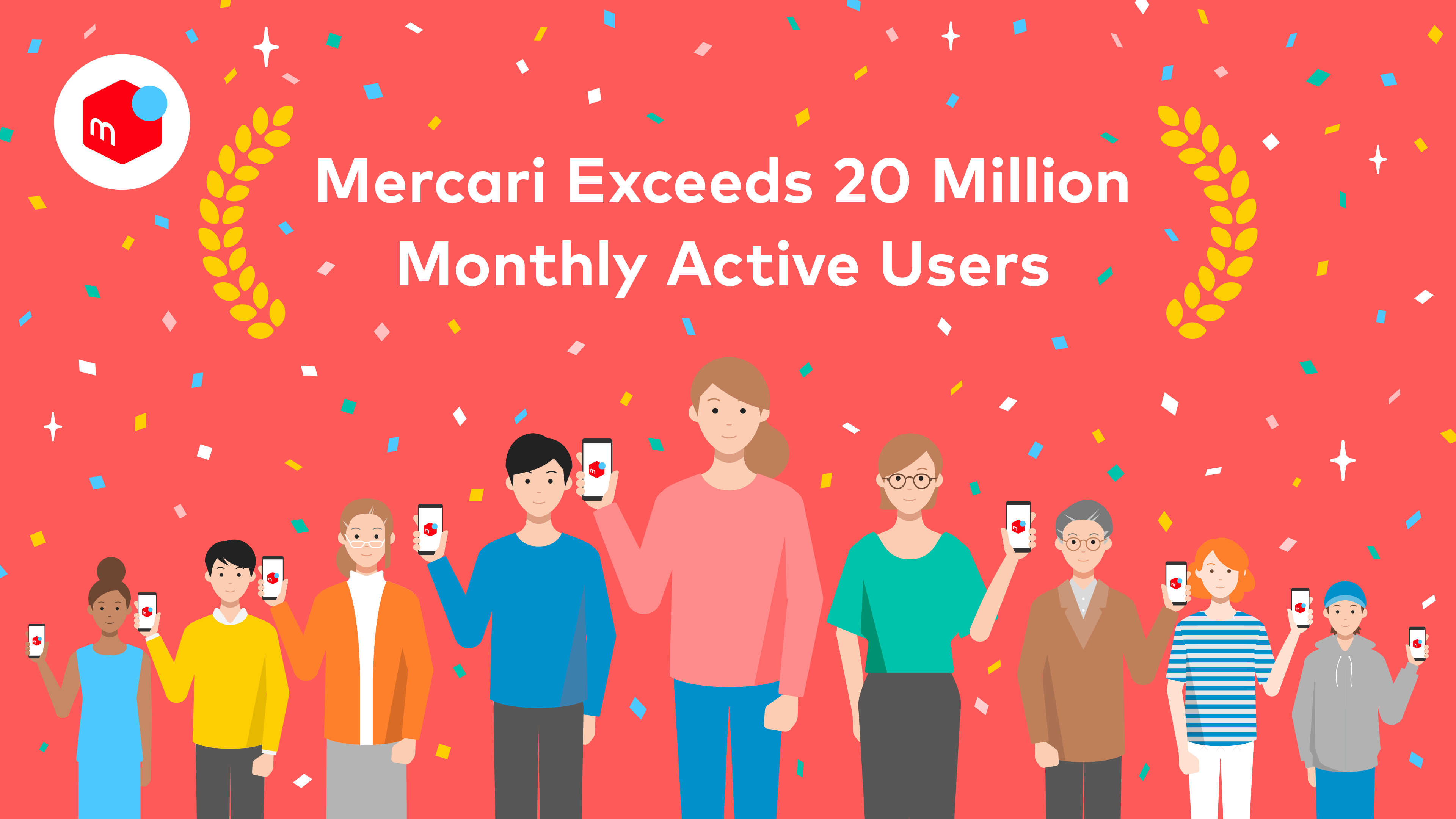 Mercari's mission is to "create value in a global marketplace where anyone can buy & sell." By creating a marketplace where somebody's unneeded items can be of use to someone else, we aim to create a more prosperous world where everyone helps recycle and reuse our limited resources.
Since the service launched in July 2013, Mercari has garnered a ton of support from our many users thanks to the work we put into developing a safe and secure product. Our users enjoy the ease with which they can buy and sell items right from their smartphone, the joy of seeing their listed items sell, the fun of finding something they have been looking for, and the peace of mind that comes from our escrow-based payment system3.
To make the Mercari experience even more immediate and convenient to users, we have made efforts online as well, working to simplify packing and shipping with Mercari Post's unstaffed drop boxes and holding Mercari Workshops to teach users how to utilize Mercari. This has led us to exceeding 2 billion total listings4 and brought Mercari into use among an even greater segment of the population, with users in their 60s and older growing approximately 1.4 times in the last year5.
Mercari has brought users more options for dealing with their unneeded items and made it easier than ever to avoid simply throwing them away, offering a way to sell them for secondhand reuse. We will continue to work towards connecting primary and secondary distribution to further accelerate the formation of this circular economy, such as by utilizing Mercari's collected secondary distribution data to optimize product planning, development, and sale within the primary distribution market. We will also work to further curtail CO2 emissions produced by item delivery as the scale of Mercari's distribution continues to widen.
A Word from Hirohisa Tamonoki, Mercari Japan CEO
I am extremely happy that we could make this announcement, and I would like to express my gratitude towards everyone's constant support of Mercari. We will keep aiming to become indispensable to the creation of a circular economy not only by ensuring a safe and secure experience for our users, but by helping circulate this world's limited resources.
3. Our company handles the payment for items as intermediary (an escrow structure), with that money being transferred to the seller once both parties have completed their review of the transaction.
4. As of December 27, 2020.
5. Announcing Investigation Results: "An Analysis of Mercari Transaction Data for Users Over 60 Years of Age" and "Changes in Awareness/Behavior Regarding Marketplace App Usage by Users Over 60 Years of Age Following the COVID-19 Pandemic" (March 2021) https://about.mercari.com/press/news/articles/20210330_covid19_survey/ (only available in Japanese)