Creating a New Buying and Selling Experience with Partner Companies
Using Secondary Distribution Data
Mercari, Inc., operator of the Mercari marketplace app, held their first business strategy conference "Mercari Conference 2020" on February 20, 2020, where they announced their future business vision and strategies to the media and business partners.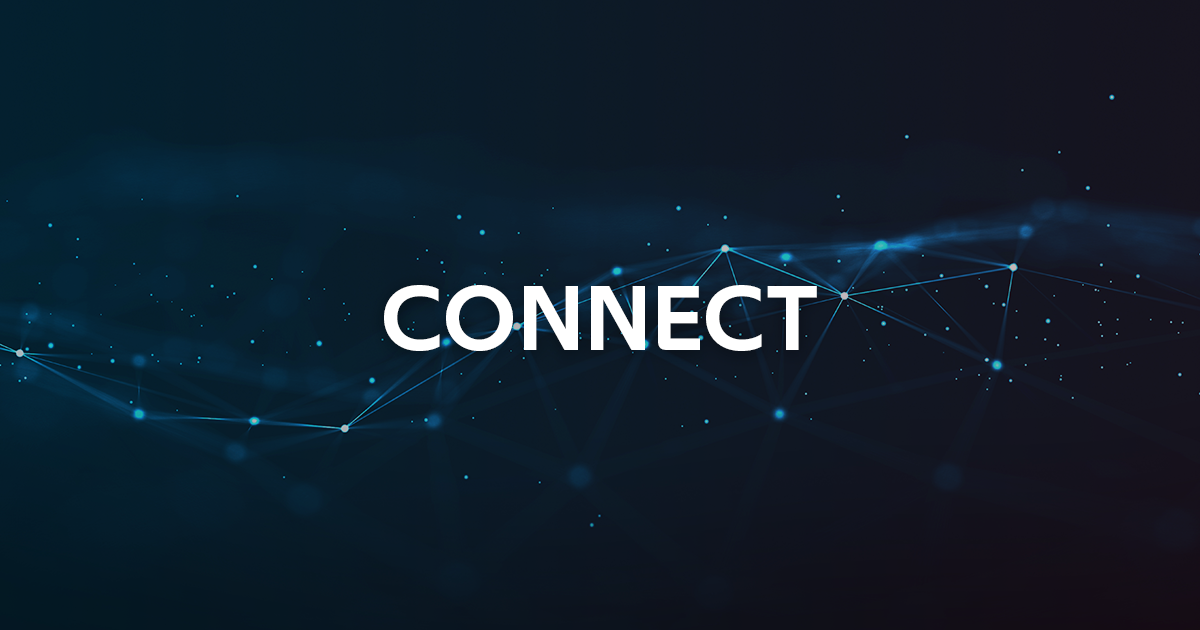 Since its launch in July 2013, Mercari has aimed to be a marketplace where individuals can buy and sell items easily, safely, and securely, with a mission to "create value in a global marketplace where anyone can buy & sell." To do so, Mercari has continuously worked to improve features within the app, such as an escrow system for payments, Mercari Shipping, AI listing, barcode listing, and more, as well as offline initiatives such as Mercari Workshops and Mercari packaging materials. As a result, in only six and a half years, Mercari has grown into Japan's largest marketplace app, with 15.38 million monthly active users, a yearly GMV of more than 490 billion yen*, and a cumulative total of 1.5 billion items listed on the service to date as of January 2020.
*Source: Mercari JP FY2020.6 Q2 Financial Highlights
However, the estimated value of unwanted items in Japan is approximately 7.6 trillion yen per year*1, and the market size of C2C marketplace apps will likely have even more room to grow going forward. Additionally, when it comes to clothing, the category with the highest volume of transactions on Mercari, it is estimated that 940,000 tons of clothing items are disposed of per year*2, and society's demand for optimizing resources to realize a circular economy is growing.
*1. Source: Ministry of Economy, Trade and Industry (April 2018). Estimated total value of items described as "items that became no longer needed over the past year." Excludes automobiles, motorcycles, and motor scooters.
*2. Source: Organization for Small & Medium Enterprises and Regional Innovation, JAPAN, "2010 Report on Investigation into 3R for Textile Goods."
Of Mercari Group's three pillars of business, Mercari JP, Mercari US, and Merpay, Mercari JP serves as the core business. At this conference, Mercari spoke about the future direction of this core business, centered around the concept of "connect" and divided into two main topics: "1. Expanding Listing Initiatives by Working with Business Partners" and "2. Bringing Together Primary and Secondary Distribution with Data Integration."
Below is a summary of the announcements made at the conference.
1. Expanding Listing Initiatives by Working with Business Partners
Making listing easier and friendlier
Growth of both selling and buying is crucial for a marketplace to expand. As such, Mercari JP began focusing on initiatives to enhance listing in the second half of 2019. According to a study by Mercari, there are an estimated 36.1 million lister prospects who are interested in listing but have not done so yet. Mercari believes that providing the experience of selling unneeded items on Mercari to even more users will contribute to the growth of the Mercari business.
Going forward, Mercari will work with business partners to realize a world where users can list items easily offline and in their daily lives, with three main strategies: developing physical shops where users can list items with just one visit, widening the range of choices for packing and shipping items, and establishing unmanned shipping locations in areas convenient for users' daily lives. As part of these strategies, Mercari announced the following initiatives.
1.Developing Physical Shops Where Users Can List Items With Just One Visit
Mercari's First Physical Shop, Mercari Station, to Open in Shinjuku Marui Main Building in Spring 2020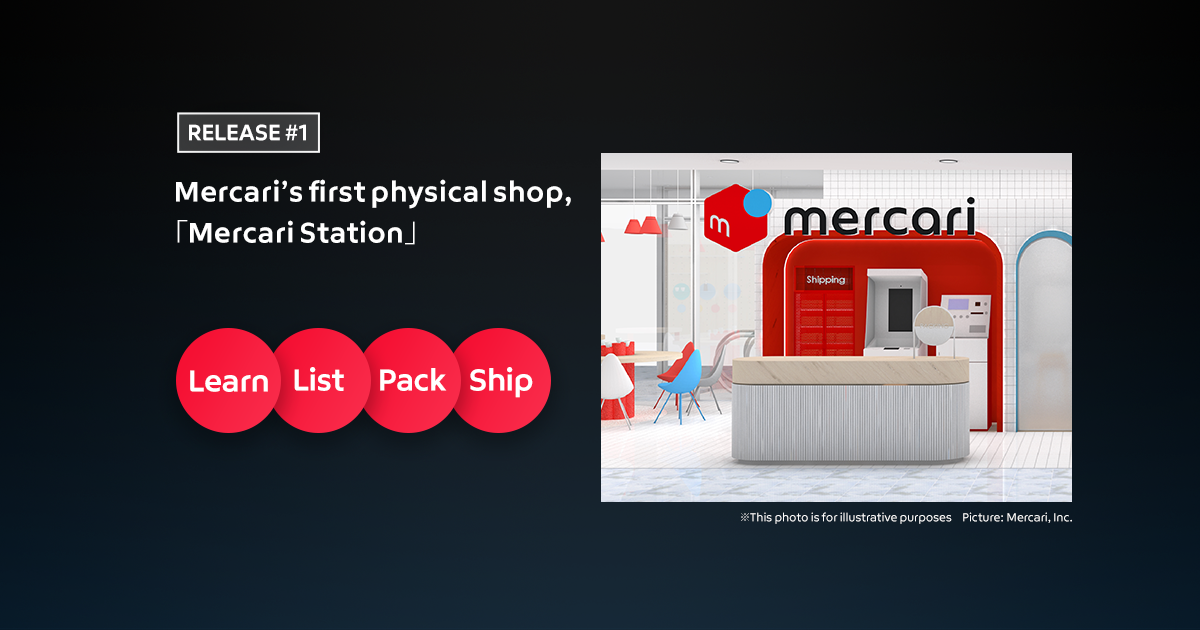 With the goal of creating new touchpoints for potential users who have never listed before, Mercari will open its first physical shop, Mercari Station, providing users with a one-stop listing experience. Mercari Stations will offer features such as Mercari Workshops teaching people how to use Mercari, areas for users to take pictures of items they want to list, packaging materials for users to buy and pack items, live-chatting services for users to ask Mercari's customer service questions, Mercari Posts, mailboxes where users can simply drop items off to be shipped, and more, in various combinations to match the size of the shop. Mercari plans to open Mercari Stations in shopping malls and commercial complexes nationwide, with model shops opening this spring and a goal of expanding to 10 major cities by summer 2021.
The first shop will be the flagship shop, opening in Shinjuku Marui Main Building, which is operated by Marui Co., Ltd. (head office: Nakano, Tokyo; President and Representative Director: Masahisa Aoki; "Marui"), this spring. Furthermore, Marui and Mercari have entered a business alliance to expand both companies' businesses and boost convenience for customers. The two companies will aim to open Mercari Stations in all Marui department store locations operated by Marui.
1
2.Widening the Range of Choices for Packing and Shipping Items
Mercari Starting a Trial Run of "At-Your-Service Shipping" to Pack and Ship Items for Users in February 2020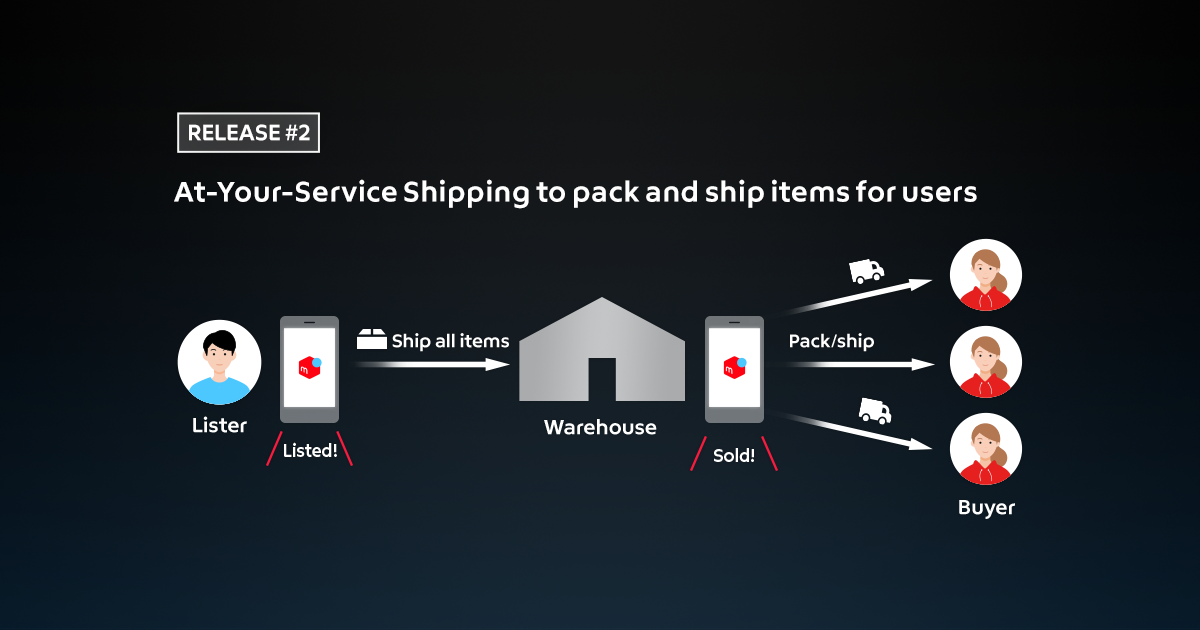 Mercari will launch At-Your-Service Shipping, where users simply ship items they have listed on Mercari to a warehouse, and a Mercari partner company stores the items and packs and ships them once they are sold. With this, users will no longer have to worry about items taking up space in their homes until they are sold, or the time and effort it takes to pack and ship items to buyers. This service will be provided by linking Mercari's API with OPENLOGI Inc. (head office: Toshima, Tokyo; CEO: Hidetsugu Ito, "OPENLOGI"), which networks shippers, warehousing companies, and delivery companies and provides pay-as-you-go e-commerce distribution services. OPENLOGI's partner warehouses will handle managing, storing, packing, and shipping items. Mercari began offering this service to some listers as a trial in February 2020, and will continue to run tests and strengthen the system in preparation for officially launching the service in the future. (Details regarding how to use this service and pricing will be announced when the service officially launches.)
3.Establishing Unmanned Shipping Locations in Areas Convenient for Users' Daily Lives
Mercari to Establish Unmanned Mercari Posts for Users to Ship Items from 5,000 Locations Nationwide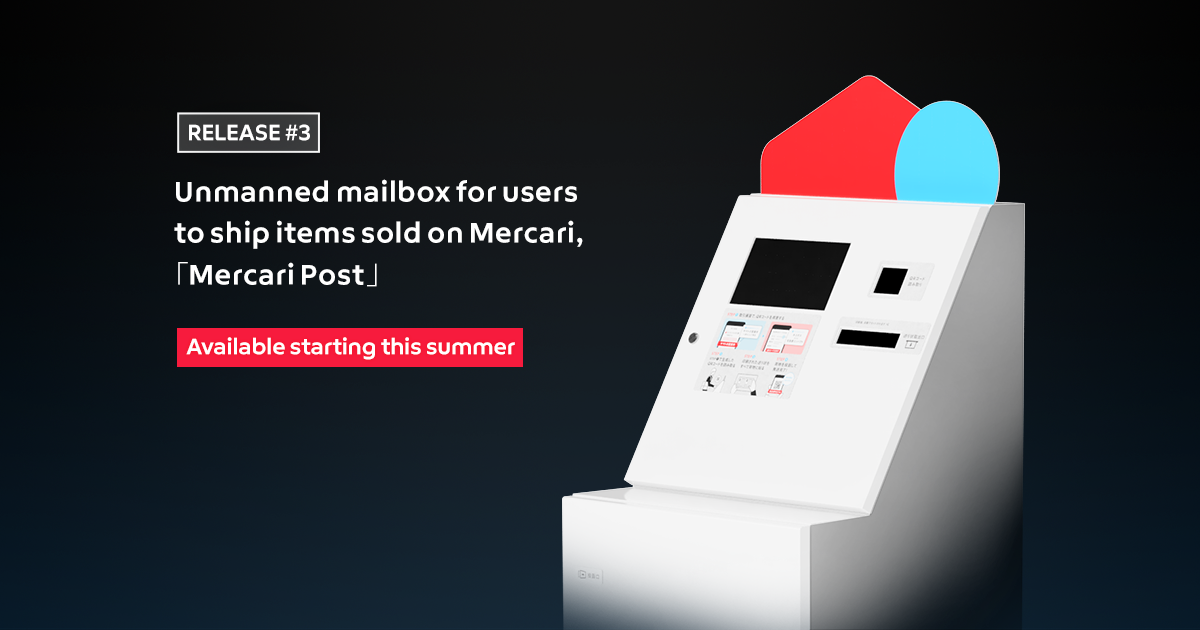 Mercari will launch Mercari Post, a mailbox where users can ship items by themselves without having to speak with an employee behind a counter. After an item sells on Mercari, the user scans the QR code displayed on the app at a Mercari Post, and the shipping label will be printed automatically. Once the user attaches the label to the package, they simply place the package in the mailbox to ship the item. The first Mercari Post will be established in the Mercari Station opening in Shinjuku Marui Main Building this spring. Following that, Mercari plans to start placing Mercari Posts in DOCOMO shops nationwide this summer, along with other populated areas frequented by Mercari users in their daily lives. By 2023, Mercari aims to establish Mercari Posts in 5,000 locations nationwide.
About Mercari Post:
https://pj.mercari.com/mercaripost/
Mercari Post will be operated in collaboration with Yamato Transport Co., Ltd. (head office: Chuo, Tokyo; President and CEO: Toshizo Kurisu) as a collection partner.
Also, Mercari will develop and launch a next-generation one-stop service in the form of a
hardware appliance, "Mercari Post Plus," which will utilize technology to implement various features useful for using the Mercari service and shipping items under a joint development project with Panasonic Corporation (head office: Kadoma, Osaka; CEO: Kazuhiro Tsuga). Mercari aims to announce the details in spring 2020.
Going forward, Mercari will continue to promote various initiatives with business partners to make listing easy and realize a world where anyone can buy and sell items freely.
2. Starting Data Integration with Primary Distribution Companies Using Secondary Distribution Data
First stage: Creating new customer experiences in the apparel and cosmetics industries
As Mercari has continued to grow as Japan's largest marketplace app, with a cumulative total of 1.5 billion items listed on the service in the 6.5 years since its launch in July 2013, it has accumulated extensive data regarding the secondary distribution market. This secondary distribution data in Mercari's possession includes data difficult for primary distribution companies like retail and manufacturers to obtain on their own, such as item data in the billions, as well as attribute data and behavior data for the more than 15 million users active on Mercari per month.
Going forward, Mercari will integrate this secondary distribution data with the item data and customer data held by primary distribution companies, and use it to visualize the life cycle of items and the customer journey of users, including the secondary distribution process. By doing so, Mercari and its partners will aim to engage customers in the primary distribution market and create new buying experiences and customer experiences, with corporate marketing, product planning, new solution development, and more.
*In using data, Mercari will be careful with personal information, and utilize data only with user consent.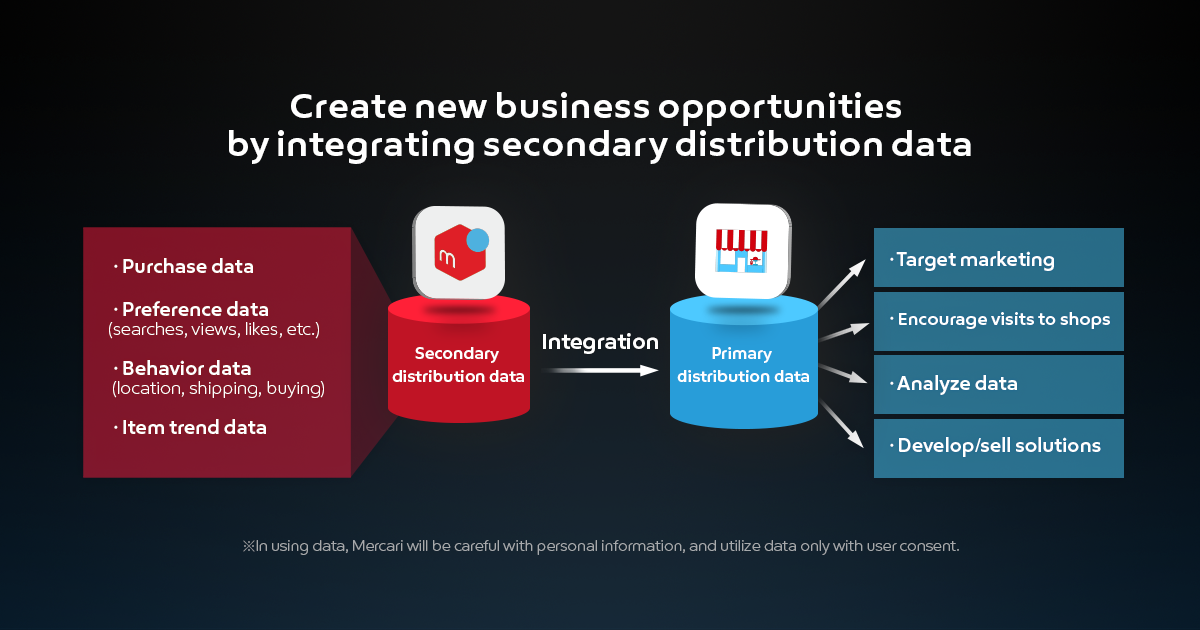 Mercari will launch the following data integration initiatives with business partners in primary distribution industries.
Data Integration Initiatives
1. Customer data integration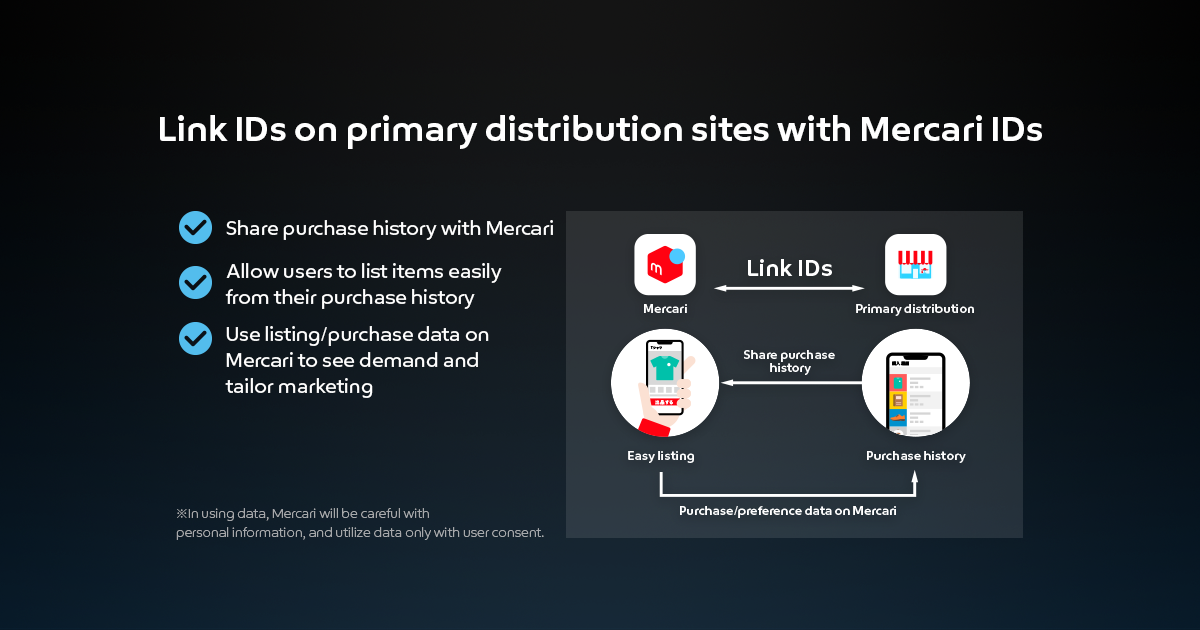 By integrating customer data held by primary distribution companies like retail and manufacturers with user data on Mercari, both sides will be able to share data on these accounts, such as purchase histories. With this, primary distribution companies will be able to obtain data regarding actions on Mercari, such as purchases, searches, and views, on top of the data they already have. This will allow these companies to further suggest products matching customers' individual interests in stores and on their own online shops. Additionally, when customers of these primary distribution companies link their IDs with Mercari, their purchase history will automatically be reflected on Mercari, allowing them to list items they have purchased without having to fill out fields such as the item description.
2. Regional data integration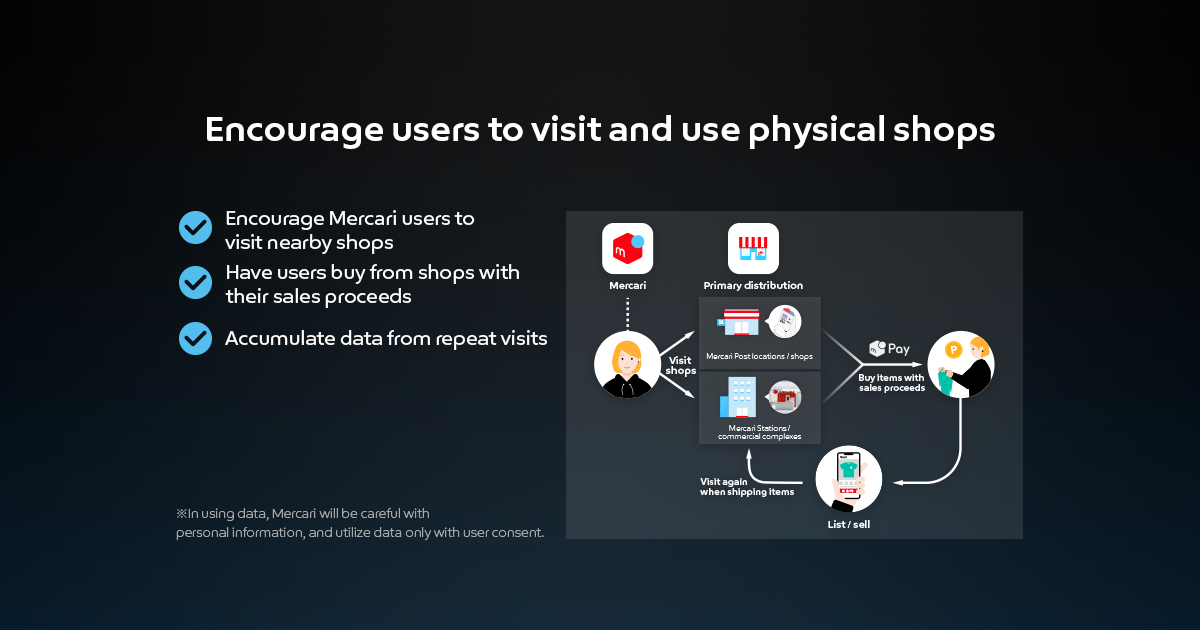 By using offline action data such as Mercari users' shipping locations and times as gathered through Mercari Stations and Mercari Posts placed in primary distribution shops, Mercari will encourage users to visit and use nearby shops.
Additionally, Mercari will also carry out initiatives such as giving discount coupons on Merpay to users visiting shops to ship items sold on Mercari in order to encourage them to purchase items at the shop. This will allow Mercari to further accumulate data and improve marketing accuracy.
3. Item data integration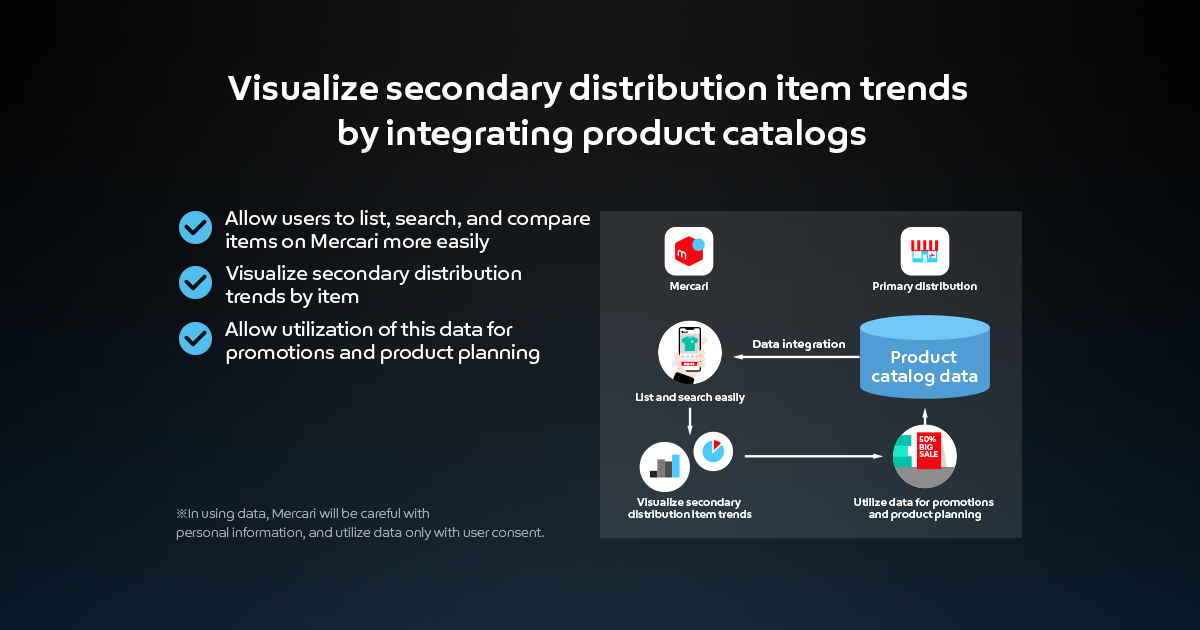 By integrating product catalog (SKU) data held by primary distribution companies into Mercari, Mercari will be able to link items listed on Mercari to catalog data. With this, these primary distribution companies will be able to view trend data for items on Mercari (number of listings/purchases, listing price, view count, etc. by user attribute and region) on a dashboard and utilize this data in marketing and product planning. Mercari users will also be able to search, view, and compare listings for individual products (SKU), as well as use barcodes, AI image recognition, and more in listing to link items they want to list to catalog data, view recommended prices, and make filling out item information easier.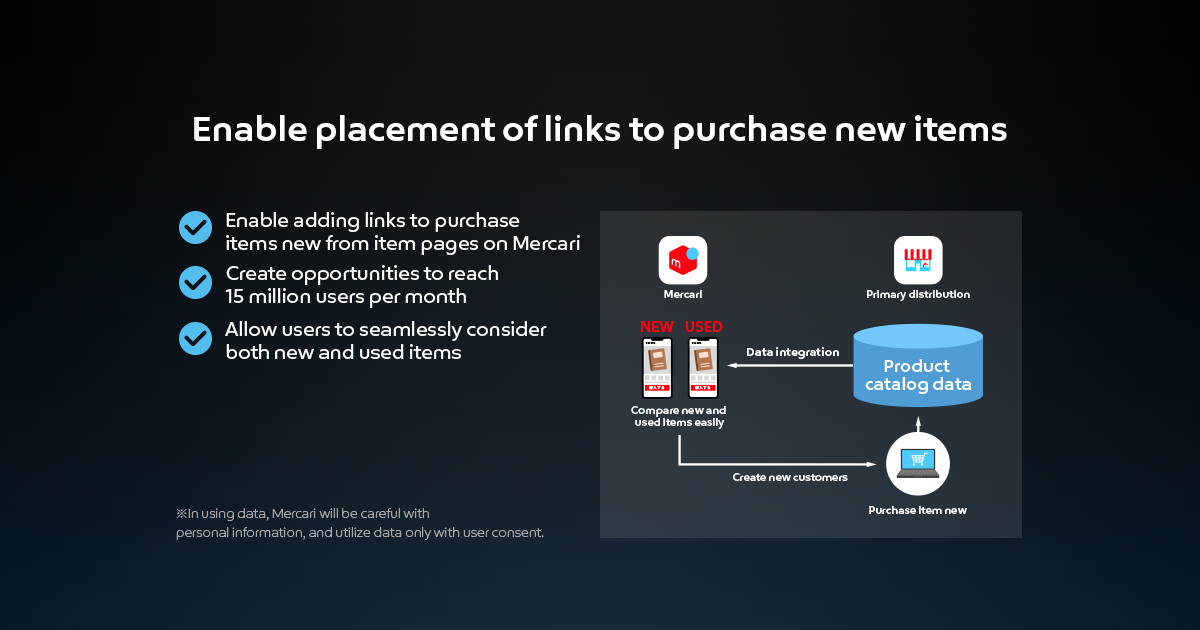 In addition to item catalog data integration, primary distribution companies will be able to place links to purchase items new from their own online shops on individual product pages on Mercari. By extending this feature, which is already available for some items such as books, CDs, and video games, to other categories, even if listings on Mercari for items in categories such as clothing and cosmetics are sold out, users can choose to purchase these items new instead, and do so seamlessly from the Mercari app.
Data Integration Partners
Mercari announced partnerships with the following companies to jointly develop these data integration initiatives.
1. Partnership with Marui Department Stores and Online Store "Marui Web Channel"
Mercari and Marui will discuss solutions integrating the data from Mercari and Marui's online store Marui Web Channel. These initiatives will aim to boost convenience for users, such as displaying items from Marui Web Channel in search results on Mercari, thus increasing choices for users, and including items purchased on Marui Web Channel in users' inventory lists on Mercari to make listing these items easier.
2. Partnerships with Apparel E-Commerce through STAFF START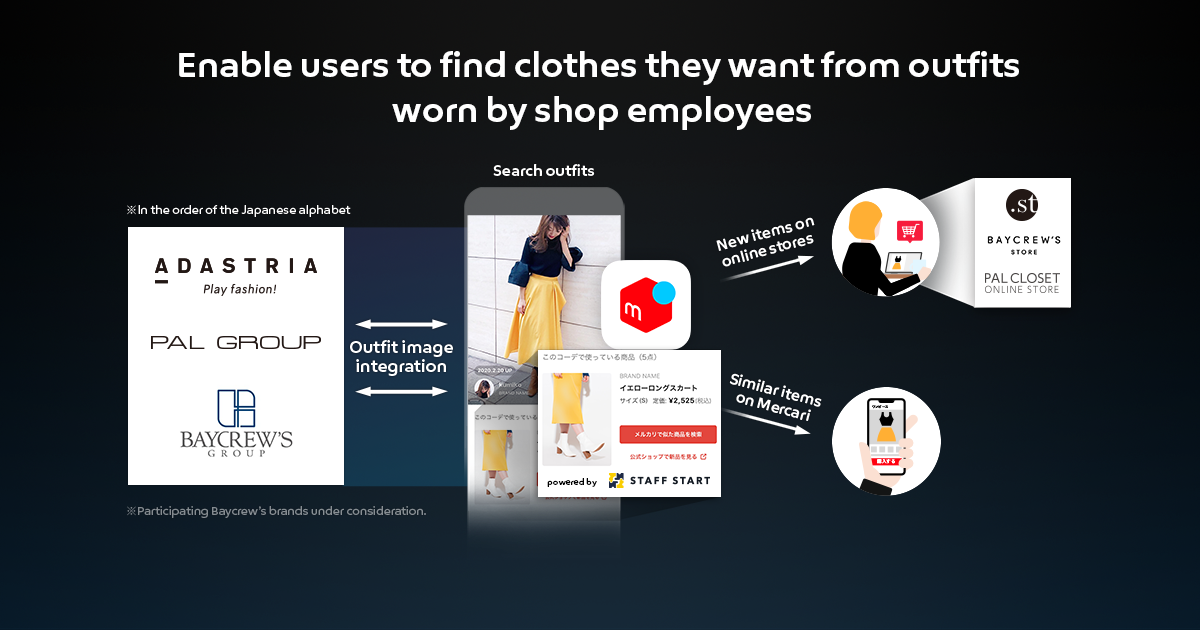 Fashion categories have the largest amount of transactions on the Mercari app, making up approximately 40% of the total transaction volume. In spring 2020, Mercari will begin integrating outfit image data from clothing companies, and encourage users to visit online apparel stores from Mercari. In the initial stage, Mercari plans to collaborate with (in alphabetical order) Adastria Co., Ltd. (headquarters: Shibuya, Tokyo; chairman: Michio Fukuda), Baycrew's Co., Ltd.* (head office: Shibuya, Tokyo; CEO: Shigeru Sugimura), and PAL Co.,Ltd. (head office: Chuo, Osaka; representative: Isamu Matsuo).
*Participating Baycrew's brands under consideration.
Additionally, this initiative will integrate content from STAFF START, operated by VANISH STANDARD CO.,LTD. (head office: Minato, Tokyo; president: Yasuaki Onozato), to provide a new match feature for users to find clothing from outfits on Mercari. With this, users will be able to go directly from images of outfits to online stores run by clothing companies.
*STAFF START is a service that allows clothing brands to link outfit images taken by shop employees to product information, and post these images on their websites and social media.
3. Data Linkage with istyle's @cosme
Mercari will enter a comprehensive business alliance with istyle Inc. (head office: Minato, Tokyo; President & CEO: Tetsuro Yoshimatsu), which operates @cosme, Japan's largest cosmetics/beauty website. By linking product data from @cosme with data on Mercari, the two will aim to help cosmetics manufacturers visualize not only the primary distribution sales data for cosmetics held by @cosme, but secondary distribution market information such as number of transactions per item, average ratings, and other statistical information from Mercari.
Additionally, the two companies will aim to boost the user experience on both Mercari and @cosme by linking user IDs on Mercari and @cosme.
4. Future Ideas Regarding the Business Partnership with NTT DOCOMO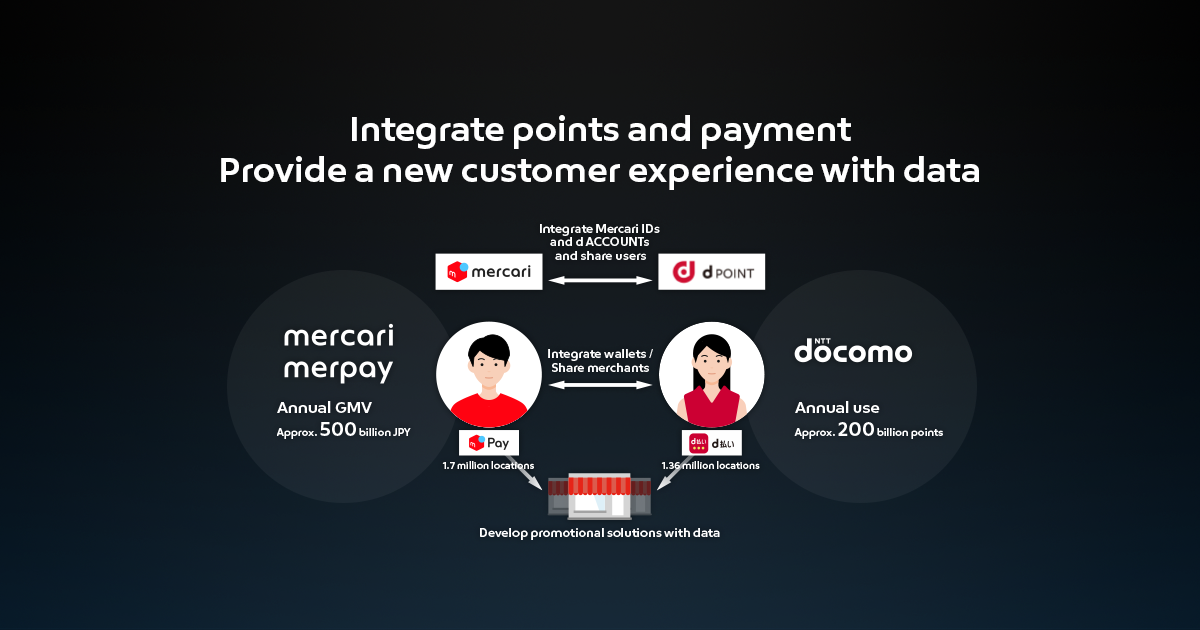 Ahead of this conference, Mercari, Merpay, and NTT DOCOMO, INC. (head office: Chiyoda, Tokyo; president: Kazuhiro Yoshizawa) announced* a business partnership on February 4, 2020. First, users will be able to link their Mercari ID and DOCOMO d ACCOUNT in May 2020. In the future, by integrating purchase history at d POINT merchants with Mercari, users will be able to list purchased items on Mercari even more easily. Mercari will also place Mercari Posts and packaging materials at DOCOMO shops nationwide, providing all-in-one services to list, pack, and ship items on Mercari.
By linking IDs and integrating data, Mercari, Merpay, and DOCOMO will provide a new user experience cycle of buying new items, listing/packing/shipping them on Mercari, and buying again. Going forward, the companies will consider developing sales solutions and more using this accumulated data in the future.
*For details regarding the business partnership, see the press release announced on February 4.
(https://about.mercari.com/en/press/news/article/docomo/)
Mercari will use the secondary distribution data it has accumulated as Japan's largest marketplace app to bring together primary and secondary distribution and create a new buying experience for users, and provide new value to users together with our business partners.