〜Full tuition subsidy and flexible working schedule support for the research and higher-learning aspirations of employees〜
Mercari R4D, the research and development arm of Mercari, Inc. ("Mercari"), announces the launch of the "Mercari R4D PhD Support Program" from February 2022. This program will provide tuition support and flexible working hours to ensure sufficient study and research time to Mercari employees who aspire to enter doctorate programs in fields that will contribute to the future growth of Mercari and the solution of social issues.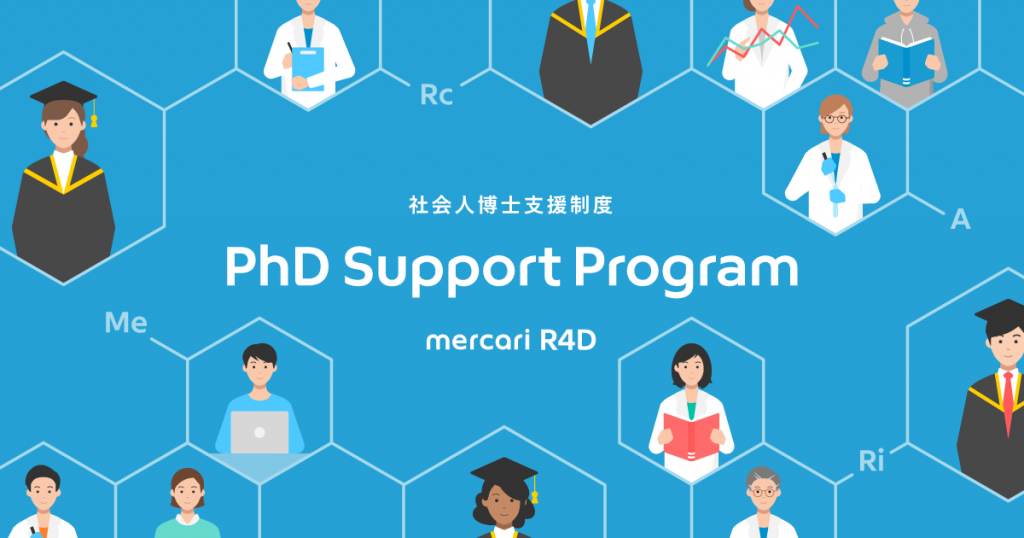 Recently, there has been a growing movement towards "recurrent education"—even after leaving school, many people want to continue obtaining new knowledge and learning new skills necessary for their career. Obtaining highly-specialized knowledge can allow people to unlock new possibilities in their individual careers, and for corporations it can stimulate innovation and long-term competitiveness. However, compared to other developed-economy countries, Japan offers relatively few opportunities for working adults to obtain higher education—PhD programs in particular present a significant hurdle due to tuition costs and other financial burdens, as well as problems securing the necessary research and study time while also maintaining employment.
Given this situation, the purpose of the program is to contribute to the achievement of the Mercari Group's mission, and to train and support people who want to study areas that will assist in broad economic development and the solution of social issues, without being constrained by convention or the status quo. Mercari and R4D will begin taking applications for the "Mercari R4D PhD Support Program" in February 2022.
Any Mercari employee who aspires to obtain higher education in the form of a PhD in a specialty area related to the business or management of Mercari is welcome to apply to this program. In addition to providing tuition support while enrolled, the Company will also give employees up to 5 days per week of study and research time to make sure that each individual has as much time as they need to study while also maintaining their job at Mercari. R4D will provide any necessary support to employees' studies and research, including keeping abreast of any paperwork or processes that may be required for using classified or sensitive information in research.
By providing this opportunity for employees to go back to school through this program, Mercari will give employees the opportunity to re-design their careers and explore new horizons, all while retaining their jobs at Mercari. Also, Mercari and R4D will be able to dispatch employees into areas beyond quantum information technology, AI, Blockchain, mobility, and other areas that R4D has been involved in up to this point. In this way, Mercari will increase the number of employees with highly specialized knowledge, and strengthen its human resource development in order to stoke innovation.
■Overview of the Mercari R4D PhD Support Program
Target

Application requirements

Mercari Group employees who have been employed with the group for at least 2 years and whose recent employee evaluations are up to a certain standard

Areas of research/study

Any areas that will be beneficial to achieving Mercari Group's mission, and are linked to future economic growth and the solution of social issues

The educational institution must be in Japan

Program support overview

Tuition support

Full tuition support (including entrance fee, expecting roughly 2 million JPY in tuition support per employee enrolled in the program)
As a general rule, tuition support will be provided for no longer than 3 years (exceptions can be made depending on the area of research/study)

Options for balancing work and research

Work 5 days per week (normal work schedule)
Work 4 days per week (80% of normal capacity)
Work 3 days per week (60% of normal capacity)
No work

Support from R4D

Keeping abreast of any paperwork or processes necessary for employees to use data from the Mercari app, or any other confidential or sensitive information, in their research
Research/study consultation

Tentative schedule

Looking ahead to the fall 2022 semester, Mercari is planning on accepting applications starting in February, and sending out letters of acceptance to the program in June
Also, while the program will initially only be for Mercari employees, in the future, the company will consider expanding eligibility to those outside the company as well. In doing so, Mercari will grow its network with research institutes and create opportunities for students with exceptional research ability to join the company; Mercari believes that this will also lead to discovering new research topics and domains, as well as stimulate innovation.
Mercari will continue to support various opportunities for recurrent education and career building for employees, and in addition to focusing on developing talent capable of contributing to economic development and solving social issues, will continue to strive for a work environment that encourages the success of its diverse people.
About Mercari R4D
Mercari R4D was established in December 2017 as a research and development organization that aims to implement its findings practically, as part of the world at large. R4D stands for Research and 4 D's: Design, Development, Deployment, and Disruption.
R4D aims to create future innovation for the Mercari Group's services and businesses centered on the core concept of changing value exchange through technology. It conducts research and development in such areas as AI, blockchain, HCI (human-computer interaction), quantum computing, and mobility.
Website: https://r4d.mercari.com/en/