Building an Efficient Package Pickup and Logistics Network Using Data and Technologies Based on Proprietary Touchpoints, to Provide Mercari Users with New Value-Added Services
At a meeting of the Board of Directors today, Mercari, Inc. resolved to establish a wholly-owned subsidiary for the planning, development, and management of logistics services called Merlogi, Inc. ("Merlogi"), as well as resolved to launch a new business through this subsidiary.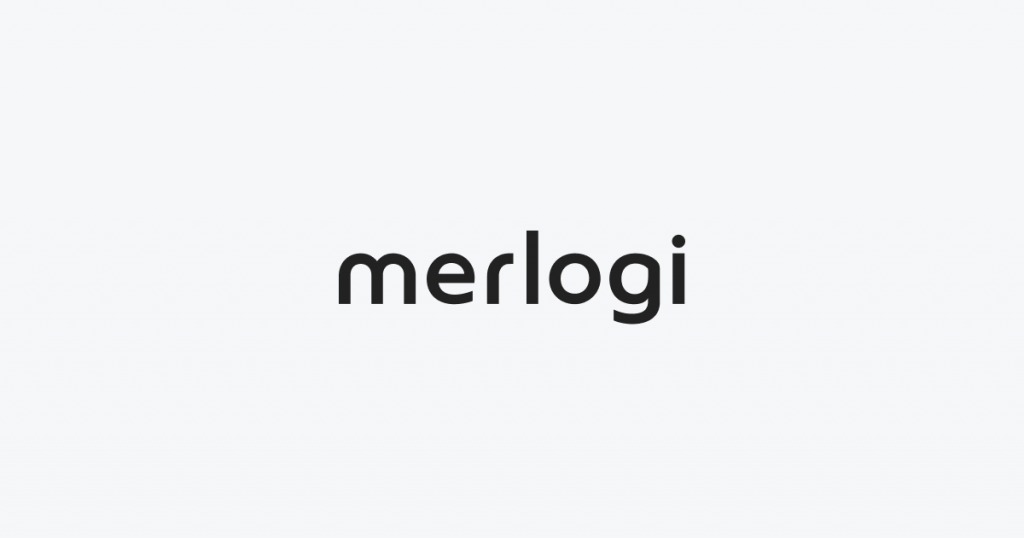 ■ Background
Mercari Group launched the Mercari marketplace app in July 2013 to create a marketplace where individuals can easily, safely, and securely buy and sell items, under the company's mission of "create value in a global marketplace where anyone can buy & sell." The company is now aiming for further growth by working to improve in-app features and improve the offline user experience, having expanded its user base and exceeded approximately 20 million monthly active users1 and 2 billion listed items2.
Meanwhile, the amount of Mercari packages in logistics circulation across Japan continues to grow alongside Mercari's expanding gross merchandise volume, with Mercari shipments accounting for 5%–10%4 of Japan's 5 billion annual express deliveries and approximately 80%5 of convenience store shipments. This has put increased strain on shipment and item collection operations at post offices and convenience stores, leading Mercari to work on bolstering offline touchpoints and streamlining shipment and package pickup through partnerships, such as with Mercari Posts, the unstaffed item shipment boxes that Mercari has set up in approximately 1,000 locations across Japan since 2020.
The new Merlogi subsidiary will provide services to further improve the user experience (packaging-free shipping, etc.) by building an efficient package pickup and logistics network utilizing Mercari's data and technologies and based on Mercari's massive shipping volume (one of the largest in Japan) and proprietary touchpoints, including Mercari Posts (approximately 1,000 locations nationwide) and Mercari Station (brick-and-mortar locations where users can learn about Mercari hands-on).
In this package pickup and logistics network, Merlogi will address the burden that the shipping process places on the environment by considering initiatives such as introducing packaging materials meant to be reused multiple times. By doing so, Merlogi will be able to contribute to Mercari's goal of creating a circular economy where finite resources are used sparingly.
1. Monthly total for Sep. 2021. Number of registered users who browsed the app or website at least once during a one-month period.
2. As of Dec. 27, 2020.
3. Source: Ministry of Land, Infrastructure, Transport and Tourism's "2020 Express Delivery Volume Report" (only available in Japanese)
4. Percentage of Mercari shipments among total express delivery volume nationwide in 2020. (Researched by Mercari)
5. Percentage of Mercari shipments among specified website linked logistics service providers shipping from convenience stores. (Researched by Mercari)
■ Merlogi's Business
Merlogi will build a new package pickup and logistics network using Mercari's data and technologies and based on proprietary touchpoints. (Merlogi will develop the business moving forward by partnering with other companies rather than owning the trucks, warehouses, or other assets required for a logistics business.)
Specifically, that means building an efficient package pickup and logistics network by using Mercari's 20 million MAU worth of transaction data to specify locations with higher shipment volumes and refine package pickup in those areas. Additionally, Merlogi will aim to expand Mercari Posts from the approximately 1,000 existing locations to 8,000 locations by 2024. Using Mercari Posts as a proprietary touchpoint alongside Mercari Station, Merlogi will maximize the efficiency of package pickup and shipment.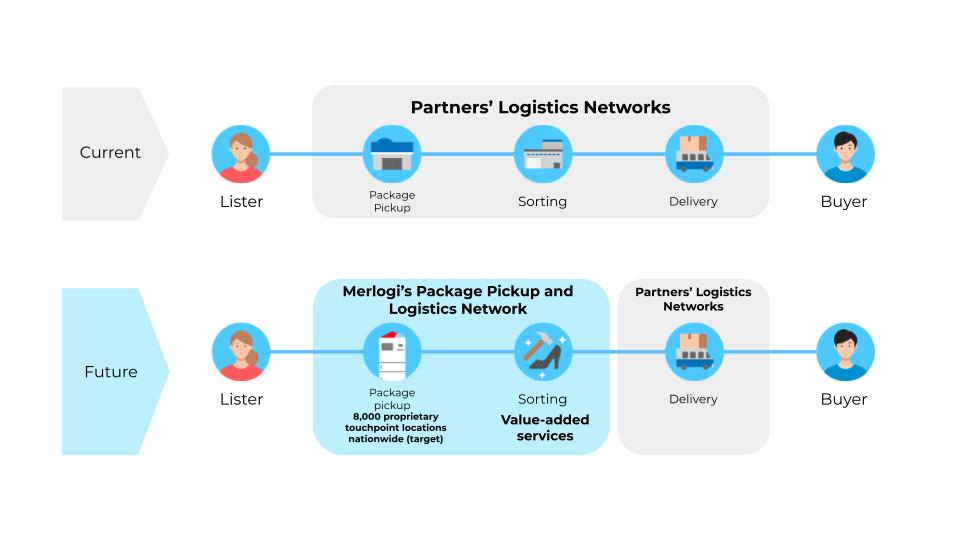 Merlogi will use this package pickup and logistics network to further improve the user experience by providing value-added services* such as pre-delivery cleaning, item repairs, and packaging-free shipping that only requires the user to bring their sold item to the shipping location.
※ Packaging-free shipping in testing since April 2021. Plan to introduce cleaning and repairs in spring 2022.

■Future Plans
Merlogi will aim to expand Mercari Posts to 8,000 locations nationwide by 2024 and improve the user experience through value-added services such as optimized package pickup efficiency and packaging-free shipping. The company will also work in the mid-to-long term to further streamline the logistics domains in which Mercari Group operates and make the company's proprietary package pickup and logistics network openly available.
Specifically, they will provide proxy listing, packaging, and shipment services for shops on Mercari Group company Souzoh, Inc.'s e-commerce platform Mercari Shops; aim to create synergy with other Mercari Group businesses; open Merlogi's package pickup and logistics network to businesses outside of Mercari Group; allow other companies to use Mercari Posts for online shopping returns and other services; and provide storage and shipping services to online shops using services outside of Mercari Group.
Through Merlogi, Mercari will pursue sustainable logistics and further improve the user experience, seeking to provide a logistics network and logistics services that are kinder to the user when it comes to sending, transporting, and receiving items.
Merlogi – Company Overview
Company Name: Merlogi, Inc.
Location: 6-10-1 Roppongi, Minato-ku, Tokyo, 106-6118
Date Founded: October 28, 2021
Capital: 150 million yen (wholly-owned subsidiary of Mercari, Inc.)
Business Activities: Planning, development, and management of logistics services
Representative Directors & Major Leadership:
Kazuya Nobe, Representative Director & CEO
Tomoyuki Shindo, Representative Director & COO
https://about.merlogi.com/en
Mercari Group is currently hiring to support our future business expansion. If you are interested in applying, please contact us here.
https://careers.mercari.com/jp/search-jobs/