Origami Inc. (Head Office: Minato-ku, Tokyo; Founder & CEO: Yoshiki Yasui; hereinafter, "Origami") and Merpay, Inc. (Head Office: Minato-ku, Tokyo; CEO: Naoki Aoyagi; hereinafter, "Merpay") came to a basic agreement for Merpay to acquire all Origami shares and Origami to join the Mercari Group.
*The stock transfer is scheduled to take place on February 25, 2020.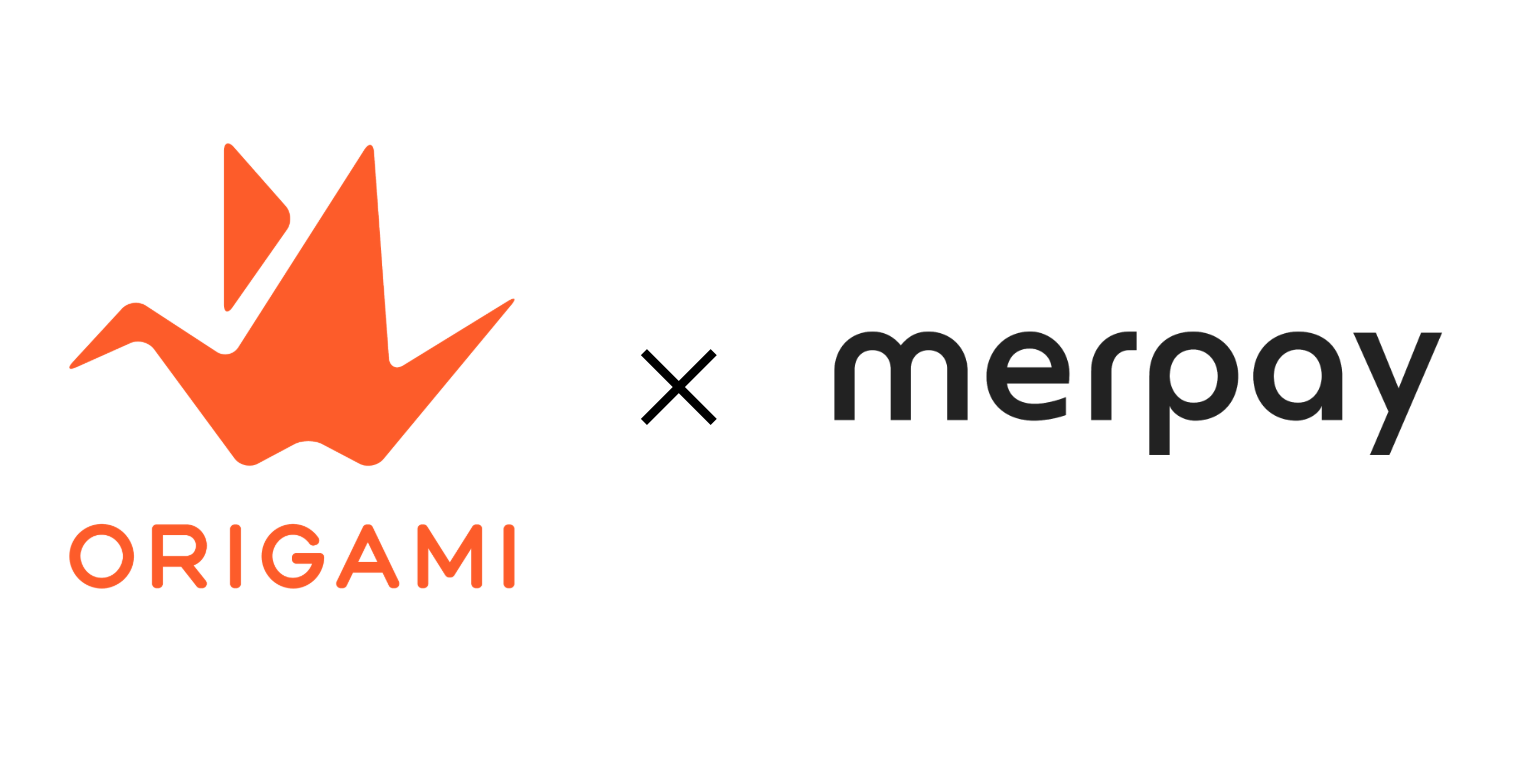 About Origami and Merpay
Origami was established in 2012 with a mission to "create the future of money, payment, and commerce." Origami Pay, Origami's mobile payment service, was launched in 2016, and as it has expanded its availability in stores and services spanning various industries and businesses across the country, it has provided not just convenience, but also new value as a contact point between merchants and consumers through payment. In September 2018, Origami formed a capital and business alliance with Shinkin Central Bank (Head Office: Chuo-ku, Tokyo; Chairman: Hiroyuki Shibata; hereinafter, "SCB"), the central bank of the 256 Shinkin banks nationwide, and by using this alliance to approach the network of regional Shinkin banks, which are known for having a strong relationship with local customers, is promoting the cashless movement with a focus on small/medium-sized regional businesses. Since the two began full-scale initiatives in November 2018, a total of 80,000 merchants have decided to introduce Origami Pay.
With the mission of "building trust for a seamless society," Merpay, a wholly-owned subsidiary of Mercari, Inc. (Head Office: Minato-ku, Tokyo; CEO: Shintaro Yamada; hereinafter, "Mercari"), launched the mobile payment service Merpay in February 2019. Given the marketplace app Mercari's user base of 14.5 million people per month and the sales proceeds (approximately 500 billion JPY per year) held by this user base through transactions made on Mercari, Merpay is currently expanding its usage by providing convenient payment features using both the contactless payment service iD and code payments, as well as a merchant base spanning various industries and businesses across the country. The service is steadily adding new features, such as Merpay Smart Payments, introduced in April 2019 as a way to allow users to pay for their purchases in one payment the following month based on their Mercari usage history, and surpassed 5 million users in October 2019, only 8 months after its launch. In this way, Merpay has promoted the cashless movement among both shops and users.
Reasons for Origami Joining the Mercari Group
With the government's support for the cashless movement, financial institutions, major telecommunications companies, IT companies, and more are entering the mobile payment industry one after another. However, while cashless payment options are becoming more and more common in major chain stores, they still have not taken hold in small/medium-sized regional businesses. As a result, cashless payments have not yet reached their potential to be a payment method used in people's everyday lives, and this has proven to be an obstacle to realizing a cashless society in Japan.
Merpay and Origami discussed the idea that as the competition among mobile payment businesses increases, combining the strengths of the two companies would not only provide benefits to both companies in terms of economies of scale, but also provide new unique value and contribute to the realization of a cashless society in Japan, and as a result, they agreed to have Origami join the Mercari Group.
After an announcement followed by a transition period for Origami's users and merchants, the Origami Pay service and brand will be integrated into Merpay going forward. Mercari, Merpay, Origami, and SCB, with whom Mercari and Merpay concluded a business alliance on January 23, 2020, will aim to realize a cashless society by promoting the introduction of Merpay in small/medium-sized regional businesses. Additionally, Mercari plans to hold regional events using Merpay, Mercari Workshops teaching how to use Mercari (from registration to buying and listing items), promotions encouraging use of Mercari and Merpay, and more by utilizing SCB's nationwide network. With this, Mercari will aim not only to contribute to further empowering local economies and promoting the cashless movement, but also to create a highly sustainable circular economy, where the sales proceeds received by selling unneeded items on Mercari return to local communities through Merpay.
*Merpay will examine the future of the payment services Origami currently provides to other businesses upon careful discussion with these businesses, with the customers and merchants currently using said services as the top priority.
For more details, see the following link:
https://about.mercari.com/en/ir/news/