'iD' contactless payments and code payments at 1.35 million merchants nationwide.
Expediting the realization of a cashless society through a wide range of partnerships with businesses such as Sumitomo Mitsui Card Co., Ltd., JCB, KDDI and beyond.
*Merpay, Inc., a fully-owned subsidiary of Mercari, Inc., issued the following press release.
TOKYO, February 20th, 2019 − Today, Merpay, Inc. held the event 'MERPAY CONFERENCE 2019' for the mass media and business partners. The conference preluded the official launch of the company's mobile payment service 'Merpay'.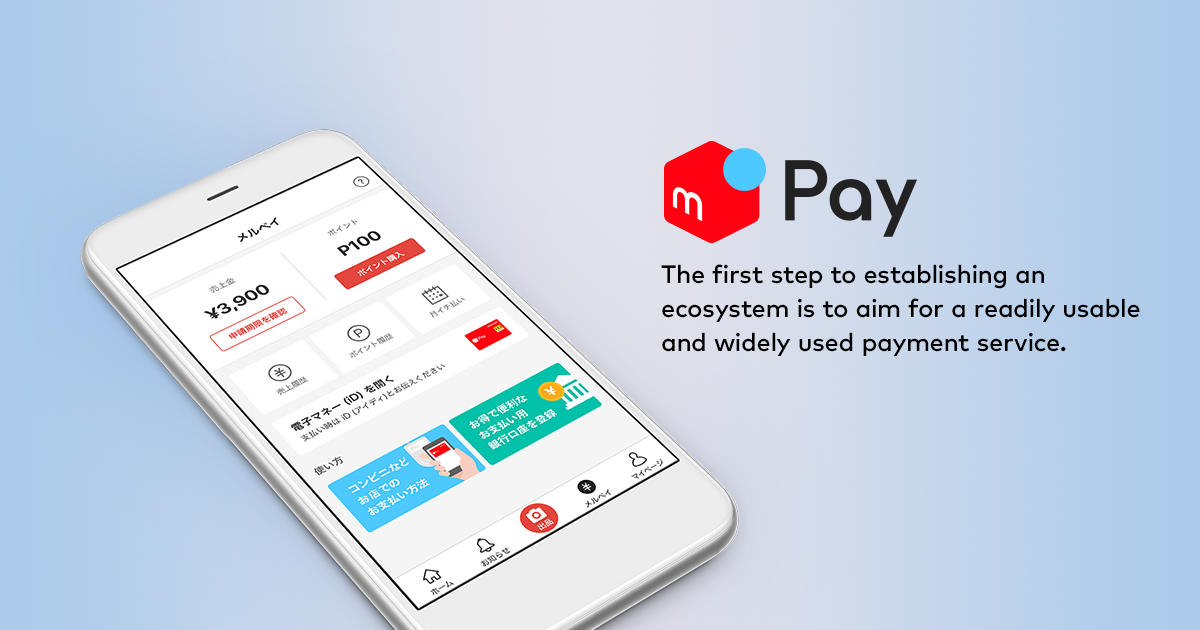 Merpay, Inc. was established in November 2017 as a fully-owned subsidiary of Mercari, Inc., with the goal of starting a new business related to finance. Merpay's mission is to build trust for a seamless society. Using the technological know how, vast user base, and foundation of data from the marketplace app Mercari, the company's goal is not only to provide Merpay as a method of payment, but to create a new form of trust that could be used to provide various other financial services in the future.
At the conference, the CEO of Mercari, Inc., Shintaro Yamada, CEO of Merpay, Inc., Naoki Aoyagi, and executive officer and VP of Business Development and Sales of Merpay, Inc., Masato 'Mark' Yamamoto, explained the future outlook of the Mercari Group, introduced Merpay's service, and shared Merpay's future strategic vision and their partnership strategy for expediting the realization of a cashless society.
Below is a summary of what was presented.
The Official Start of Mobile Payment Service, Merpay
Merpay is a mobile payment service that can be used through the marketplace app Mercari. Customers who use Mercari are able to use the sales balance* they earn from selling on the app to not only make purchases inside the Mercari app, but also at stores nationwide.
*Certain settings, or the purchase of points, is required in order to make purchases using sales balance.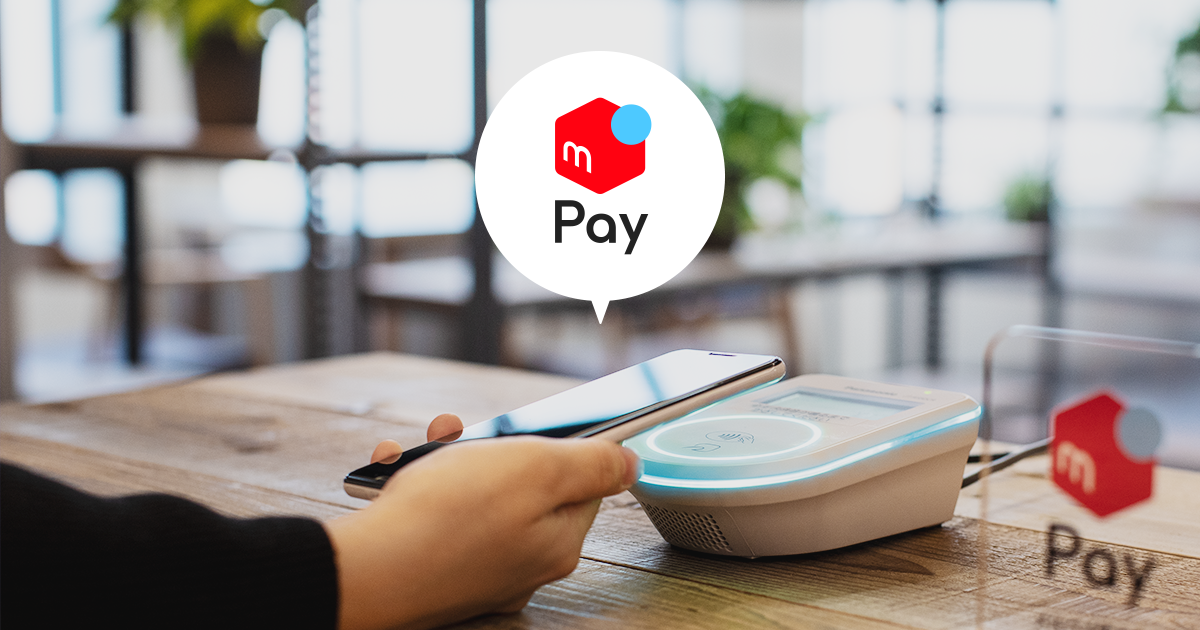 Mobile payment service 'Merpay':https://www.merpay.com/
As the first stage of the launch, the service partnered with Sumitomo Mitsui Card Co., Ltd. to provide payments through 'iD', a contactless payment service directed by NTT DOCOMO, INC., starting February 13th. (This feature is currently scheduled to be released on Android devices in late February or early March.)
The service also plans to support code payments starting mid-March, 2019 (date to be announced).

The initial plan is to generate a barcode within the Mercari app, which customers can present at the register for the merchant to scan. However, in the future customers will also be able to use an in-app barcode reader to scan the barcode presented by the merchant to make payments.
This will allow Merpay to become accessible by small-medium business that do not own payment processing devices and service a total of 1.35 million merchants nationwide. (900,000 merchants that accept 'iD' payment, 450,000 merchants that accept code payments).
*Merpay, Inc. has submitted multiple patent applications related to the features and UI of the payment methods described above.
Overview of Merchants Accepting Smartphone Payment Service 'Merpay' (excerpt)

Furthermore, Merpay plans to offer bank account connections to over 60 banks throughout Japan. Even without a sales balance on Mercari, customers will be able to use Merpay by registering their bank account from the Merpay charge page and charging money directly from their bank account.
List of Available Bank Connections (31 in total as of today, February 20th)
Aichi Bank, Aomori Bank, Ashikaga Bank, Aeon Bank, Bank of Iwate, Ehime Bank, Ogaki Kyoritsu Bank, Kagawa Bank, Kita-Nippon Bank, Kiyo Bank, Bank of Kyoto, Bank of Kochi, Saitama Resona Bank, Shizuoka Bank, Taiko Bank, Daisan Bank, Daito Bank, Chikuho Bank, Chukyo Bank, Tokushima Bank, Tochigi Bank, Tottori Bank, Tomato Bank, Nishi-Nippon City Bank, Fukushima Bank, Mie Bank, Mizuho Bank, Michinoku Bank, Sumitomo Mitsui Banking Corporation, MUFG Bank, Resona Bank
List of Expected Bank Connections
Awa Bank, Senshu Ikeda Bank, Iyo Bank, SBJ Bank, Gunma Bank, Keiyo Bank, Shiga Bank, Shikoku Bank, 77 Bank, Jibun Bank, Japan Net Bank, Shonai Bank, Daishi Bank, Chiba Kogyo Bank, Tsukuba Bank, Towa Bank, Bank of Toyama, Nagano Bank, Hyakujushi Bank, Fukui Bank, Hokuto Bank, North Pacific Bank, Hokkaido Bank, Yamanashi Chuo Bank, Bank of Yokohama, and others
Advantages for Merchants of Introducing Merpay
Merpay, Inc. is proactively seeking for businesses (merchants) to implement its mobile payment service, Merpay. In July 2018, the company established Merpay Connect, Inc., its fully owned subsidiary focused on the expansion of its corporate user base, and is working towards increasing the number of stores to implement the service.
The following are the advantages of introducing Merpay.

1) An active customer base centered on users with a sales balance on Mercari
The Mercari app has a customer base of 12 million MAU※1, an average daily usage time of 5.3 hours※2 and usage rates comparable to that of social media services. In addition, most users already have a sales balance, meaning that they can use Merpay to make payments immediately without the additional effort of having to charge funds to their account. Merchants can thus expect Merpay to be a payment service that customers use on a regular basis.
*1: FY2019.6 2nd quarter average. Number of users that used Merpay at least once in one month. (Merchari not included.)
*2: Source: Nielsen Digital Co., Ltd. (January, 2018)

2) The potential to create new demand through capital of approximately 500 billion yen per year
The sales balance that users acquire from transactions on Mercari (totalling approximately 500 billion yen/year), unlike month-to-month income used to pay for daily living expenses, serves as a form of incidental income, generated from selling items they no longer need. This creates the potential for a new layer of consumer demand which goes beyond what customers normally spend. Merchants can expect this to serve as an opportunity to both bring in more customers and increase profits.
3) Utilization of Mercari app data
Using data from the Mercari app, such as the location and number of users that possess a sales balance, it is possible to identify areas with high demand for the payment service, and expand to merchants in these locations. In this way, not only is Merpay able to efficiently expands its merchant base, but merchants can expect the payment service to be used immediately after its introduction.
No initial installation fees or fixed costs are incurred for merchants implementing Merpay. Merchants will be able to use Merpay at a 1.5% payment transaction fee.
– Initial installation fees: Free
– Fixed costs: Free
– Payment transaction fees: 1.5%
*Figures apply to the Merpay app for merchants (the app for merchant employee use when handling checkout via Merpay mobile payments).
*Please inquire via the official website if your business is interested in implementing Merpay.
https://www.merpay.com/merchant/

The Merpay service is also working to cooperate with local municipalities, with current plans to work with the municipalities listed below, and more planned for the future.
Local municipalities Merpay will collaborate with
Kanagawa Prefecture, Kamakura City (Kanagawa Prefecture), Gifu City (Gifu Prefecture), Kobe City (Hyogo Prefecture), Sendai City (Miyagi Prefecture), Chiba City (Chiba Prefecture), Fukuoka City (Fukuoka Prefecture), Minoh City (Osaka Prefecture)
*Collaboration details to be announced at a later date.
Future Plans
In the future, Merpay plans to expand to online payments and cover both online (e-commerce) and offline (in-store) payments. Merpay aims to achieve a world where customers can purchase items online and, based on their purchase history, list the item for sale on Mercari later with a single tap.
In addition to the above, the company is also looking to offer benefits such as support for product development and sales to merchants in the future utilizing the secondary distribution data from the Mercari app.

Partnership Strategy for the Rapid Transition to a Cashless Society
To not only expand the usage of Merpay as a mobile payment service but accelerate the transition to a cashless society throughout Japan, the company is forming neutral and open partnerships across various industries and sectors.

The first phase of the company's partnership strategy involves the partners and initiatives announced today, as follows.
1) Sumitomo Mitsui Card Co., Ltd.
Merpay, Inc. and Sumitomo Mitsui Card Co., Ltd. entered a business alliance for the start of contactless payments for Merpay, Inc.'s smartphone payment service, Merpay. As a result of this alliance, customers can use their sales balance acquired from transactions on the Mercari app not only for purchases on Mercari, but also at 900,000 iD merchants throughout Japan, such as convenience stores, restaurants, drugstores, fast food restaurants, and other stores common to everyday life.
*Refer to the following press release for details.
https://jp.merpay.com/news/2019/02/merpay_smcc/ (Japanese)

2) JCB Co., Ltd.
Merpay, Inc. and JCB Co., Ltd. concluded a memorandum of understanding with the goal of popularizing code payments. Through this alliance, from around spring of 2019, mobile payment service Merpay will also be accepted at merchants which accept JCB code payment.
*Refer to the following press release for details.
https://jp.merpay.com/news/2019/02/merpay_jcb/ (Japanese)
3) KDDI Corporation
Merpay, Inc. and KDDI Corporation concluded a memorandum of understanding on a business alliance covering merchant expansion for mobile payment services, with the goal of promoting the popularization of cashless payments supported by the mobile payment services of both companies, Merpay and au PAY. The two companies plan to promote the implementation of mobile payment services by proposing both Merpay and au PAY for code payments, mainly focused on small and medium-sized businesses.
*Refer to the following press release for details.
https://jp.merpay.com/news/2019/02/merpay_kddi/ (Japanese)

Merpay's Business Vision for the Future
In pursuit of the mission to build trust for a seamless society, Merpay hopes to use transaction and purchase data from Mercari and Merpay to build a new form of trust that allows consumers to enjoy new payment experiences.

In the immediate future, Merpay plans to allow customers to make purchases at stores using deferred payments, even if they don't have money on hand at the time, based on their track record on Mercari. This service will be known as 'Merpay Deferred Payments*' and is scheduled to be released in Spring 2019.

*The 'Mercari Monthly Deferred Payments' service within the Mercari app will be renamed to 'Merpay Deferred Payments', and will become usable for payments at physical stores, making it available for a wider range of uses.

In the future, Merpay, Inc. aims to go beyond providing a simple method for payment and offer various other services in pursuit of the mission of "building trust for a seamless society."