In order to better incorporate ESG perspectives into management decisions and execution processes, Mercari has established an ESG Committee to advise our Senior Executive Committee. We have also appointed ESG officers for each of our companies. Having these officers offer an ESG perspective in business-related management decisions allows us to balance our businesses and materiality-focused ESG initiatives, and ensures a structure that allows us to swiftly implement and promote these initiatives. Our ESG officers also take part in discussions and decision-making for sustainability strategies across Mercari Group as members of the ESG Committee.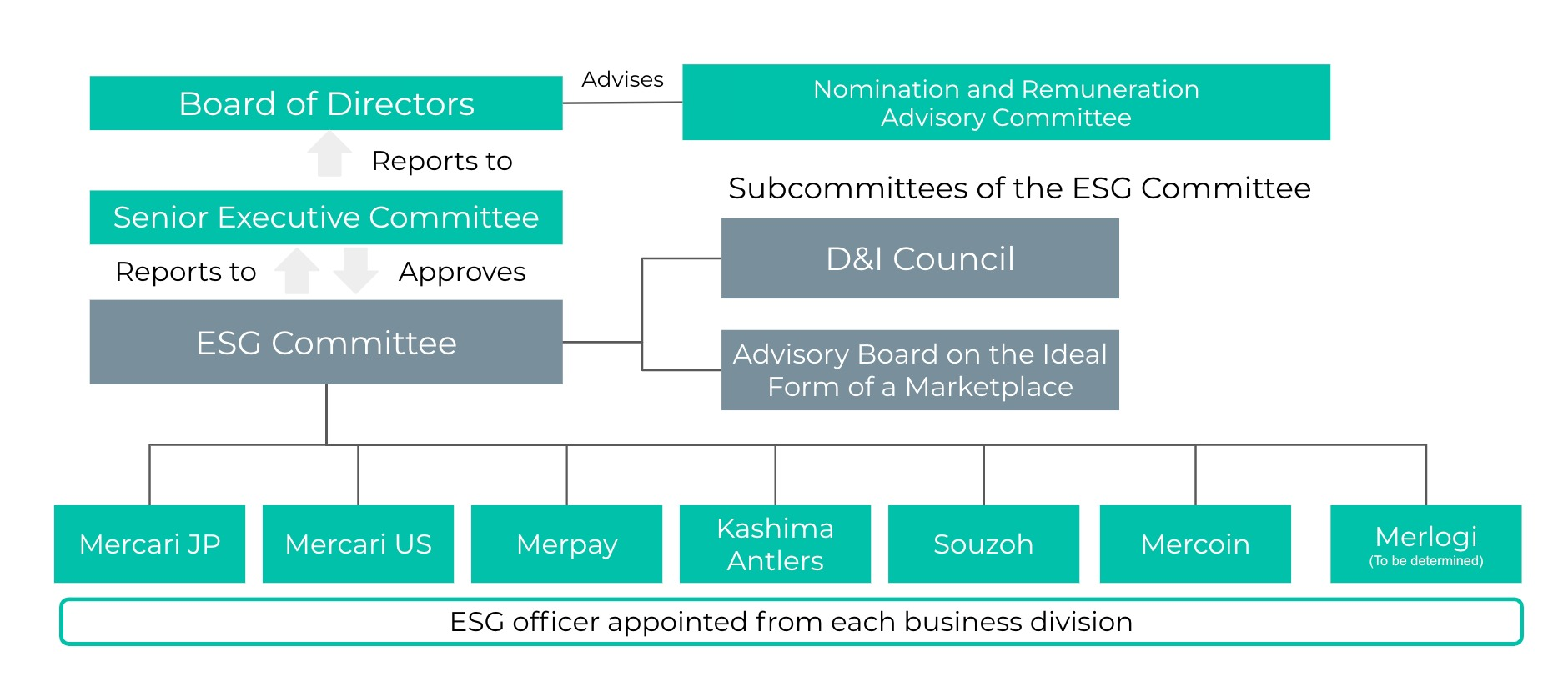 ESG Committee
Mercari considers ESG to be an important management topic. The ESG Committee aims to ensure sufficient time for regular discussions regarding ESG in order to enable better discussions and enhance the quality of decisions made by the Senior Executive Committee. With Mercari CEO Shintaro Yamada as chairperson, this committee is composed of the CEOs of each Mercari Group company, as well as ESG officers and other members nominated by the chairperson. They meet four times per year to formulate ESG-related implementation plans and monitor progress on each of the material topics.
Meeting topics:

・Materiality targets
・Implementation plans for each material topic
・Progress on each material topic and any necessary adjustments
・Structure and responsibilities for promoting and implementing ESG
・Policies regarding disclosure of ESG-related information
List of ESG officers
Overview of 2nd ESG Committee Meeting
Topics discussed
1. How to reflect ESG in each company's roadmap
2. Greenhouse gas emission calculation results and each company's plan of action to reduce emissions
3. Climate change risks/opportunities and our approach based on the TCFD recommendations
4. Our policy for calculating positive impact

Discussion overview
The second meeting of the ESG Committee, chaired by Mercari Representative Director and CEO Shintaro Yamada, took place on May 10 (Tue.) during a meeting of the Senior Executive Committee, which engages in discussion and decision-making regarding the management of the Group. The committee reconvened to go over topics regarding Mercari's approach to its materiality, which will be reflected in the roadmap of each of its Group companies.
Specifically, with regard to Mercari's initiative to create a circular economy and mitigate climate change, members exchanged opinions on how to maximize the Group's positive impact on the environment. The discussion centered around how to prioritize the multiple initiatives being planned and implemented. With regard to these topics, the committee agreed for the basic approach to be to conduct business in alignment with ESG principles. The ESG Officers representing each company will continue discussing and considering these topics in detail. The members also shared and discussed the climate change risks/opportunities identified base
d on the TCFD recommendations as well as Mercari's approach to these topics. The committee plans to continue discussions to disclose this information in the future.
Overview of 1st ESG Committee Meeting
Topics discussed
1. Mercari's aims for ESG management
2. Results of each business's materiality-based risk/opportunity assessment
3. How we reflect ESG in each company's roadmap

Discussion overview
The first meeting of the ESG Committee, chaired by Mercari Representative Director and CEO Shintaro Yamada, took place on February 1 during a meeting of the Senior Executive Committee, which engages in discussion and decision-making regarding the management of the Group. The committee covered topics for discussion in reflecting Mercari's approach to materiality in the roadmaps of each company.
The meeting started with reports from the ESG officer of each company regarding the results of each business's materiality-based risk/opportunity assessment. Following the reports, the committee actively discussed each materiality point including how, through each company, Mercari can realize a circular society, respond to climate change, and embody Diversity and Inclusion (D&I) in the Group's products and services.
Going forward Mercari plans to apply these ESG perspectives to each company roadmap and reflect the discussions of this first ESG Committee meeting in company management.
*Mercari's Material Topics (Materiality) 1. Creating a Circular Economy/Mitigating Climate Change 2. Diversity & Inclusion 3. Local Empowerment 4. Safe, Secure, and Fair Transactions 5. Corporate Governance and Compliance